Dr. Thach Nguyen – one of the world's leading professors of interventional cardiology and considered by the Vietnamese cardiologists as an "enlightener" of interventional cardiology – currently serves as the Acting Provost and Dean of School of Medicine of Tan Tao University (TTU) said those words during the discussion with all 12th graders of Tan Tao gifted high school (TTS) in the afternoon of October 11.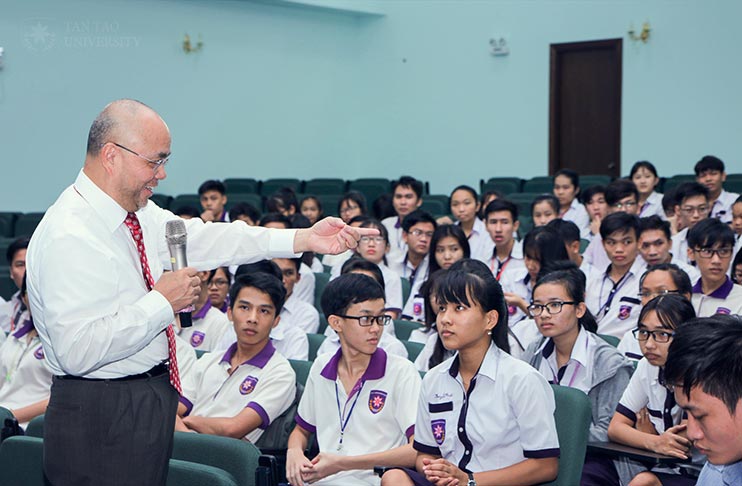 Apart from being involved in the important medical research development and cooperation program with American and Singaporean professors at TTU, Prof. Thach Nguyen still gave priority for the discussion with all students at the 12th grade of TTS. The simple reason for his priority is: "Do whatever is good and helpful for TTU students". The 12th graders are entering the most important year of their school life. It is the time that each student has to make a choice about profession, career and job to pursue in the future. Any advice and encouragement for students at this time have a significant impact. Therefore, right from the beginning of the discussion, Prof. Thach Nguyen encouraged each student to speak out the mind so that teachers will give them the best advice.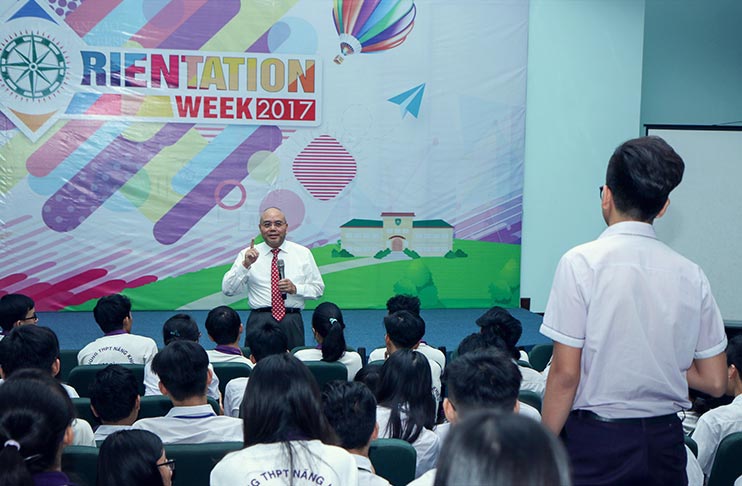 After the first embarrassing moment, students were excited to share their own plans. Most of the students wanted to pursue the study of Economics – Business Administration, Engineering and General Medicine. Prof. Thach Nguyen encouraged students to pursue their dreams with all their love and enthusiasm. "If you do not do something with love and passion, you will quickly realize that you are not interested in what you are doing." The professor emphasized the way to maintain a passion for work is to constantly do research, explore to find new things that no one have ever thought before. The professor took an example from his own medical research writing. Two of his five published books are of the best-sellers of interventional cardiology in the United States, and have been reprinted for the fourth time. "Reprints are not the same book as the first book" said Prof. Thach Nguyen. "Nobody spends more than US$ 100 to buy a book with the same content. Although it is reprinted, there are some new things or unprecedented discoveries in each time of publication. If you reproduce something old, no matter how valuable it is, it will eventually become obsolete. Innovation and creativity are the key to make America as powerful as it is today, " he concluded.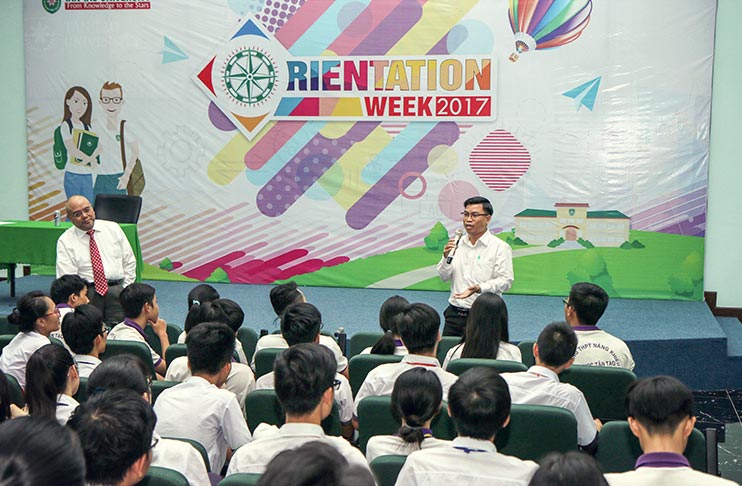 Responding to a male student 's concern whether his choice of profession is right or wrong, Prof. Thach Nguyen suggested he should ask his relatives and people whose insight knowledge in his interested fields for their sharings and advice, and ask his teachers for job orientation. "More importantly, if you feel passionate about yourself, have the courage to pursue it. We can be wrong, but at the same time, it will draw a lot of valuable lessons to grow up. "
Talking to shy students, Prof. Thach Nguyen constantly motivated and encouraged students to show their confidence. "Speak with enthusiasm and passion and it will attract listeners. We will not achieve any results if our speech is not convincing enough."
The discussion was fun and atmosphere relaxed. And of course, it was conducted in English. From time to time, the renowned professor used the Vietnamese words to explain important definitions to help all students understand. Tran Thanh Binh, a twelfth grader in the English speacilized class, has the dream of starting a business. "I wonder if such dream at my age is too risky and illusory", he asked. "Nothing is too soon or too late to do what we dream of doing. Follow your plan wisely. " The professor continued: "It is necessary to split the goal into smaller mini goals to achieve it. You will find a big dream will come true."
"When being asked for the reason to study medicine, most of students say it has been a dream since childhood, or since their parents are doctors, or due to the loss of loved ones, they want to become doctors to save lives. Not all of them will become good doctors," he said. "Even some students dropped out, but they have succeeded with their new choices. You have the right to change your dreams or interests. It is not necessary to pursue a thing that is no longer a passion or is no longer suitable for you."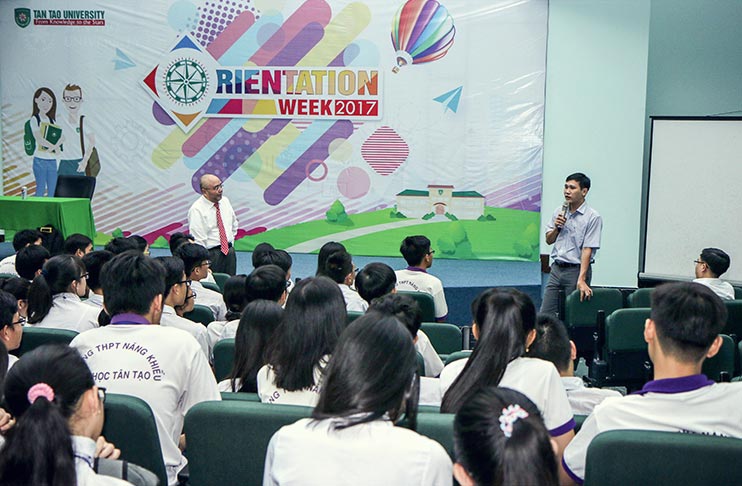 Through this story, Professor encouraged TTS students to change their mind and daringly choose new things. "The Liberal Arts education is new in Vietnam, but it is very familiar in the US. It is the path to success for many famous politicians and CEOs in the world. The majority of students in the liberal arts schools have obtained stable jobs and have been rewared with job promotion. " Prof. Thach Nguyen expressed his heartfelt appreciation for the vision and dedication of Mme. Dang Thi Hoang Yen – Founder TTU and TTS for her determination to develop TTU in the model of the American liberal arts education. "Mme. President has chosen for you the path of success of renowed leaders and entrepreneurs in the world. You have to embrace it and make it a chance to change your life. " He affirmed: " I will do the best together with President Dang Thi Hoang Yen to develop TTU in the model of American Liberal Arts Education. How? It is through bringing students to do internships in the US and encouraging students to do scientific reasearch. All students have to communicate in English to study and work in an international environment. "
Prof. Thach Nguyen ended the discussion with a promise: "All newly admitted students in all five schools will have the opportunity to do internships in the US and in developed countries in 2018. You choose TTU and the future is yours." All students in the auditorium showed deep thanks to the professor with unceasing applause. "I will be a new TTU student in 2018" – said a student from a English contest team of TTS.