TTU CAMPUS
Tan Tao University is a lifelong dream of Mme. Dang Thi Hoang Yen and has become a reality.
October 2, 2004: Starting construction by raising the elevation, developing infrastructure, roads, utilities to transform a flooded and blackish water areas to become TanTao University – the first Non-Profit private U.S style university in Vietnam.
October 2, 2005: Starting construction of the first building – Domitory and Vocational Training Center.
October 2, 2006: Launch of construction of the Gillis Hall
Tan Tao University is the first Private Non-Profit US-style university situated in 503 arcres area in Tan Duc E.City, Duc Hoa District,
Long An Province. The founder and the main sponsor of TTU is Mme. Dang Thi Hoang Yen.
The University is designed and master planned by renowned U.S. architectural firms from United States including:
1. Morris Architects (USA) : Design Architect
2. The Office Of James Burnett (USA) : Landscape Architect
3. CBM Engineers, Inc (USA) :  Structural Engineers
4. Facility Programming And Consulting (USA) : Facility Planning & Consulting
5. Southern Engineering & Informatics Investment Corporation (S.E.I) :  Client Civil & Structural Engineers
6. Connell Wagner Vietnam Co, Ltd (US-based company's branch in Vietnam) : MEP Engineer
7. Archethought LLC (USA) and S-IMS (Sao Bắc Đẩu Integrated Management Solutions Corporation): Data Center
8. DP Consulting Co., Ltd: Power Generating System
9.Samsung Company and Refrigeration Electrical Engineering Corporation (REE): Electricity system
10. Tan Tao Group: Construction
11. Taserco: Landscape contractor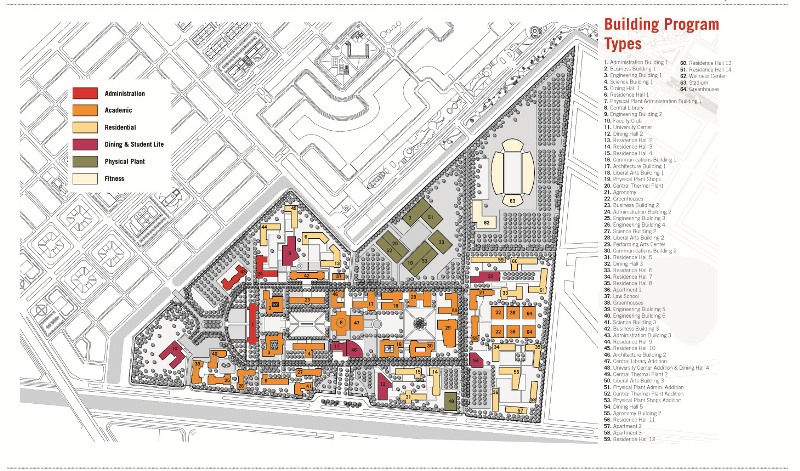 TTU's Master Plan
The Campus is expected to be completed within 15 years with 64 faculty buildings in a total area of 12 million square feet
including library in the center, ten schools and facilities to serve 10 thousand students.