After six years of studying at the university, medical students must continue to choose their future path of studying for a practicing certificate or continuing their studies in residency programmes.
Resident doctor: a dream for medical students
Residency Doctor (BSNT) is always the goal for medical students who wish to develop further in their medical studies and research. BSNT quotas for each major are often very limited and come with conditions on age, academic ranking, and undergraduate academic achievements.
In particular, each medical student can only take the BSNT exam once in their life. This means that if you fail the exam, you will not have a chance to retake it again.
Orientation for Resident Doctors in University Lecture Halls
Tan Tao University (TTU) has oriented medical students the department's goal is to become a BSNT right from the first years by building a training programme based on the content of the Ministry of Education and Training and a part of the curriculum of the Faculty of Medicine at the University of Illinois, Chicago, USA. Furthermore, the English-Vietnamese bilingual curriculum assists students with foreign language abilities in accessing international medical records and successfully using information.
According to Professor Thach Nguyen – Vice Rector of TTU and Dean of the Faculty of Medicine, the highlight of the medical training programme at TTU lies in the fact that students can study with teachers who are leading professors, doctors, and doctors of the industry. blood, from the United States and Vietnam.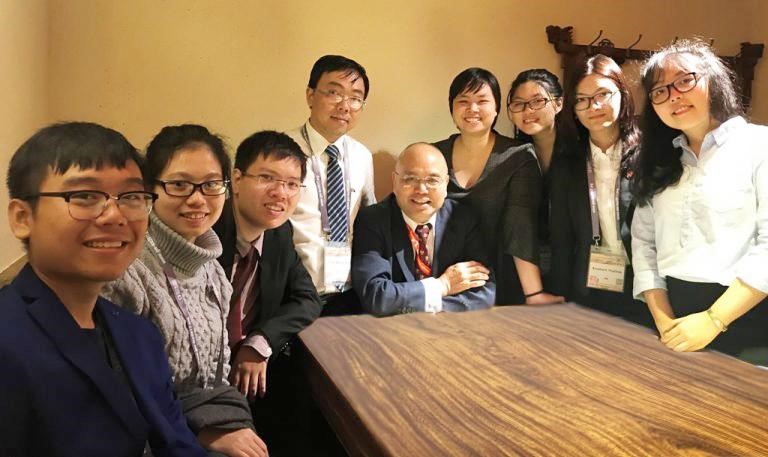 A special highlight at the TTU Faculty of Medicine in the orientation of training students to become medical doctors in the United States is the inclusion of the USMLE subject in the curriculum so that students have a complete foundation. The USMLE department equips solid professional knowledge along with foreign language skills during the study process so that TTU Medical students can confidently pass the USMLE exams Step 1, Step 2, and Step 3 and be admitted to the BSNT programmes of prestigious medical schools in the US.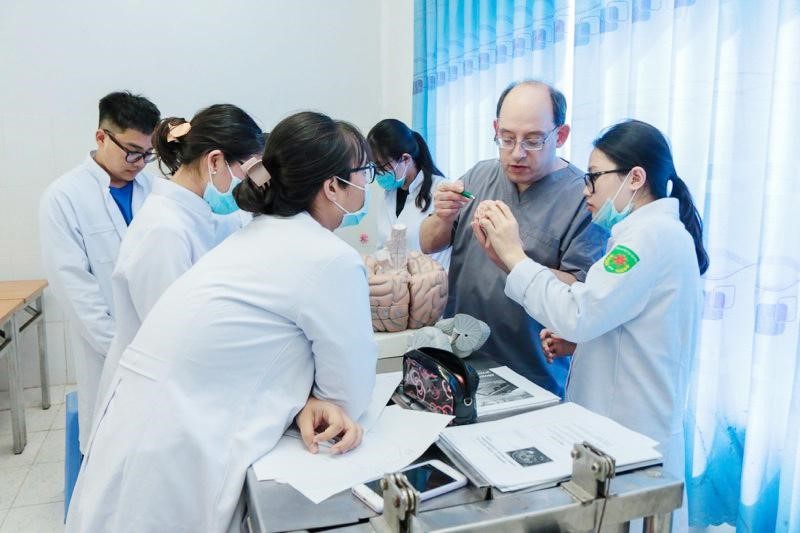 Conquer the dream of US medical residency
Doctor Tran Trong Nhan (Medicine Course 2) passed Step 3 of the USMLE exam in the United States in 2022, kicking off his road to become a Medical Doctor in the United States. Dr. Luong Ngoc Tuyet Nhi passed the USMLE Step 1 exam in 2023 and is now studying for the USMLE Step 2 and an internship in the United States in 2024. The National Council of Medical Examiners of America, which also supervises the USMLE for students in this country, administers this USMLE exam. This is a significant achievement for TTU Medical students.
Resident doctors at leading medical universities in Vietnam
Up to now, many doctors who graduated from the TTU Faculty of Medicine in 4 graduation courses have been admitted and received scholarships from the VinUni University BSNT programme, such as: Doctor Tran Vo Thuy Nhi, Doctor Nguyen Van Lanh, Doctor Nguyen Van Viet Thang, Doctor Nguyen Thi The Trinh, Doctor Bui Pham Thai Hoa, Doctor Nguyen Phuoc Loc, Doctor Nguyen Hua Hoang Quan, Doctor Duong Danh Nguyen Hien, etc. In addition, there are a number of doctors who graduated from TTU who are participating in BSNT programmes at the City University of Medicine and Pharmacy. Ho Chi Minh City like Dr. Le Nguyen Hieu Hanh, Pham Ngoc Thach University of Medicine like Dr. Duong Phuc Hai, etc.
Bui Pham Thai Hoa (TTU Medical Alumni)—admitted to VinUni BSNT—also said that her most memorable memory while studying at Tan Tao University was being able to intern for two months at Saint Mary's Hospital (USA). "During that internship, I also had the opportunity to present at the Transcatheter Cardiovascular Therapeutics (TCT) conference in 2018, thanks to the help of Professor-Doctor Thach Nguyen as well as the school Board of Directors."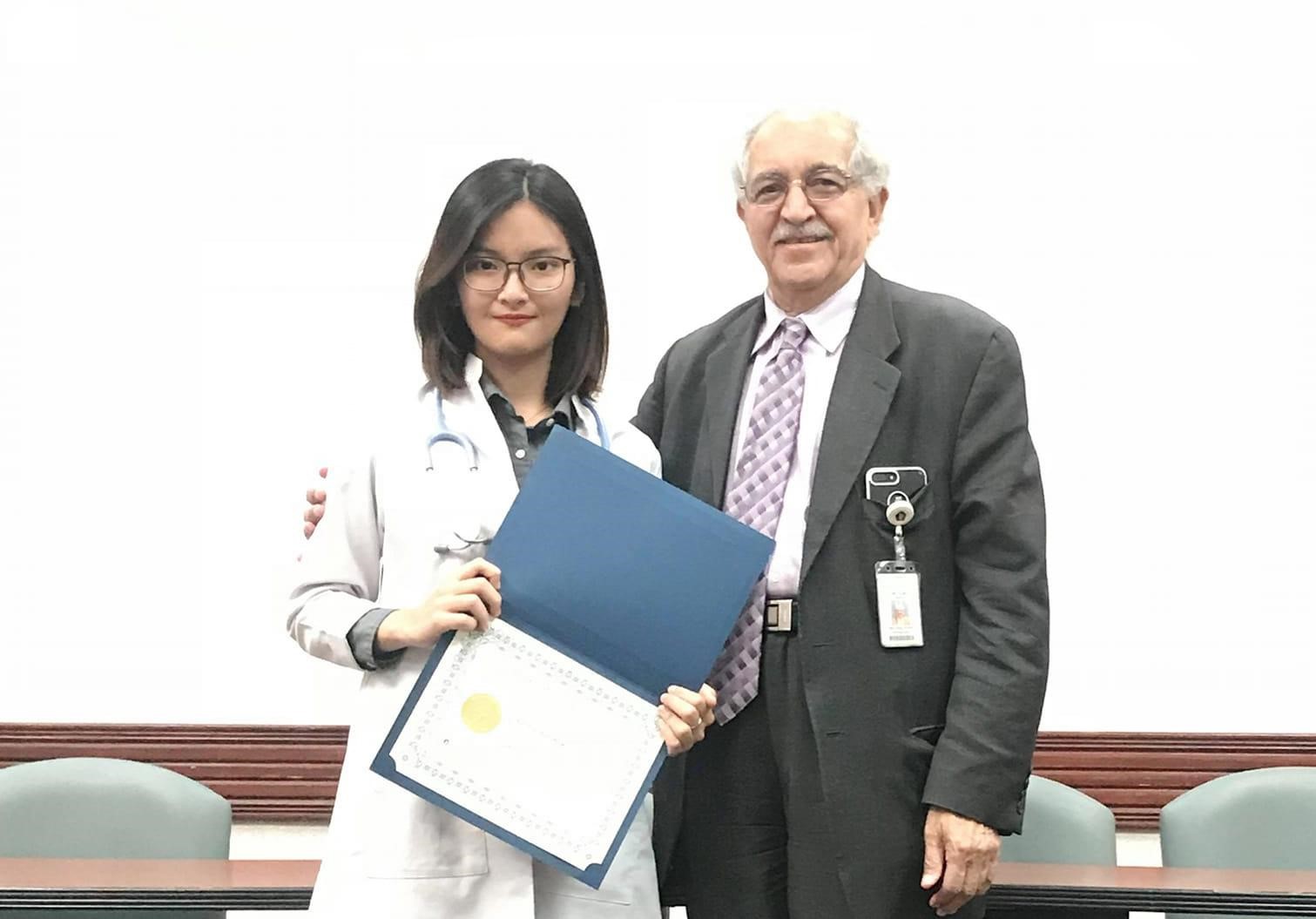 Doctor Bui Pham Thai Hoa was photographed with Professor Dr. Vijay Dave during his internship at St. Mary Medical Centre, USA.
Enhance professional status
In addition to BSNT programmes, doctors also have the opportunity to continue studying in graduate programmes or research programmes to improve their professional knowledge and skills. Graduates from TTU Faculty of Medicine participating in the graduate programme (Master's) at Ho Chi Minh City University of Medicine and Pharmacy include: Dr. Mai Quang Minh – Geriatrics, Dr. Phan Ta Thuc Duyen – Ophthalmology, Dr. Truong Trien Khang – Orthopedics, Doctor Nguyen Thanh Luan – Internal Medicine, Doctor Chau Nhat Linh Dan specializes in Ear-Nose-Throat, Doctor Le Tran Anh Quoc – Psychiatry, Doctor Nguyen Quang Nhat – Anesthesiology and Resuscitation, ect.
The above success stories of the Doctors and Doctors (TTU Medical Alumni) are a testament to the quality of TTU's medical training. With the goal of improving the quality of medical human resource training in Vietnam, along with the motto "American Medicine – Hai Thuong Medical Ethics" the TTU Faculty of Medicine continues to develop high-quality medical programmes for medical students. Students pursue their journey to become promising doctors, contributing intellectually and medically to the field of medicine and public health for the country.
Tan Tao University accepts applications for additional admission to majors in Medicine, Nursing, and Medical Laboratory Technology

Time from now until September 30, 2023

See more information here: tuyensinh.ttu.edu.vn

Admissions consulting hotline: 0981.152.153 – (0272).377.5995.