On Thursday, December 28th, Tan Tao University (TTU) hosted the 'EdCamp HCMC' 2017.  Approximately 100 enthusiastic educators, teachers and educational managers, who were bused to TTU from HCMC, attended the dynamic first-time event.  EdCamp HCMC was based on a participant-driven 'sharing and learning' platform that exemplified the synergy amongst ELT educators who are dedicated to networking and are actively seeking advancements in English education.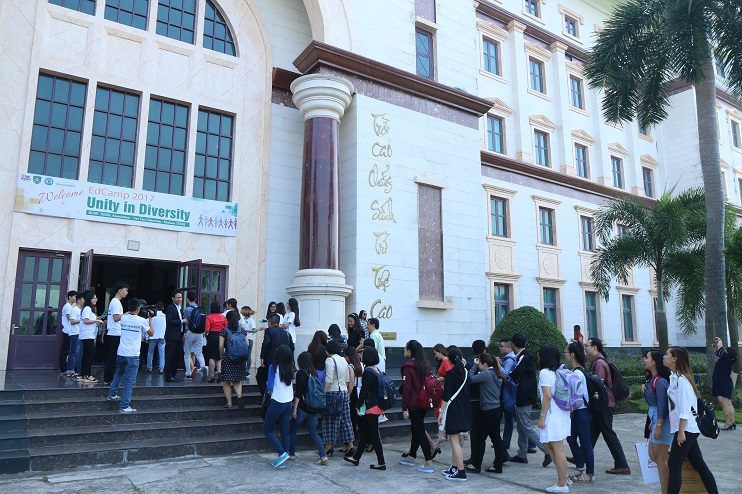 EdCamp HCMC was co-organized by TTU, the TESOL HCMC Association, and Horizon TESOL. Horizon TESOL was represented by Ms. Thu Nguyen, while the TESOL HCMC Association was represented by Vice President Loc Do, Ph.D. , executive member Vu Nguyen, Assoc. Prof. Ph.D., and standing executive member, Mr. Tien Bui.  Mr. Tien Bui was not only an event facilitator; he provided an energizing presentation that highlighted the achievements and significance of the Lower Mekong Initiative (LMI), a multinational partnership among Cambodia, Laos, Myanmar, Thailand, Vietnam, and the United States to create integrated sub-regional cooperation among the five Lower Mekong countries. The EdCamp HCMC was partly sponsored by the LMI.
TTU was represented, in particular, by Mr. Huynh Ho, TTU Vice Provost, Mr. Nhon Dang, Deputy Dean of SHL, Mr. Jonathan Lankford, Associate Registrar, and instructors Peter  Huynh and Robert A. Goldberg.   The Master of Ceremonies was the charismatic and always charming TTU junior, Ms Huynh Chau. In addition, a special group of amicable and spirited TTU freshmen served as special assistants.  Their participation was definitely instrumental in the smooth running of the entire event.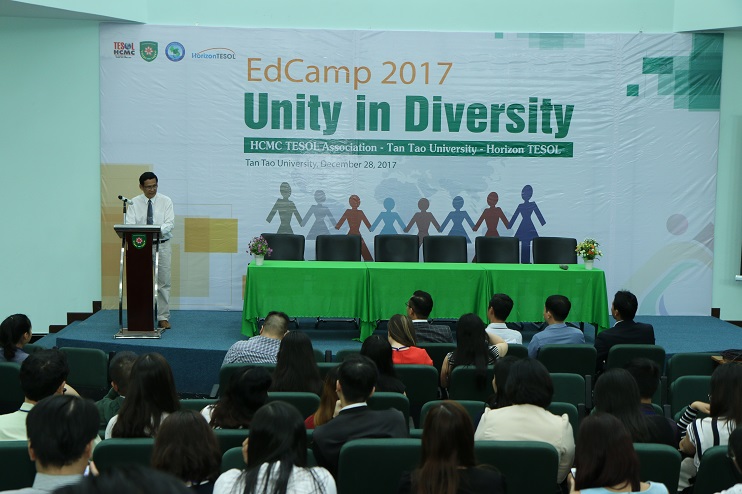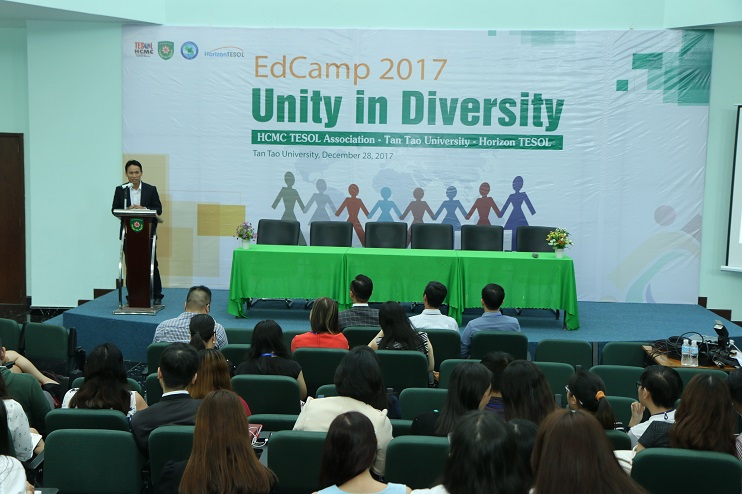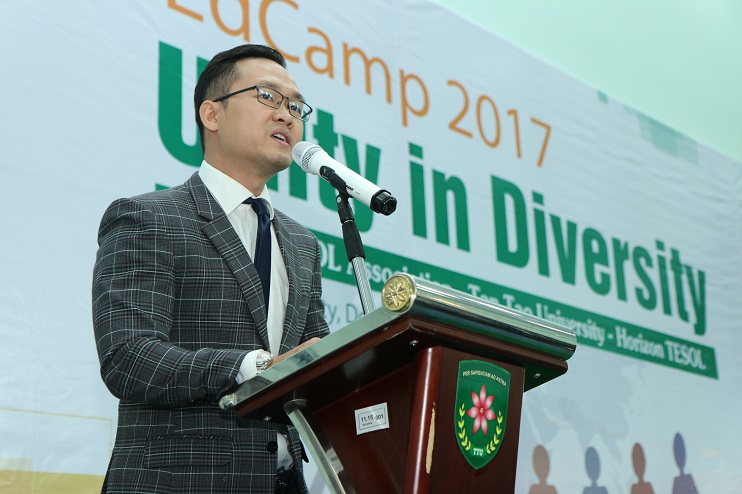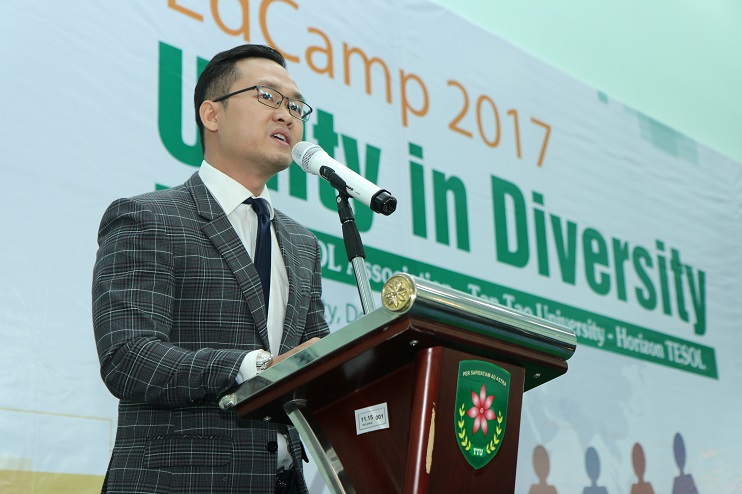 The overall EdCamp HCMC program featured a TTU mini-tour, a series of "breakout" workshops, Mr. Bui's LMI presentation, and an insatiable lunch catered by the warm and efficient TTU canteen staff.   The TTU mini-tour culminated in the viewing of TTU's noteworthy 'Wood & Ceramic' exhibit on the fourth floor.
The engaging and pragmatic 'breakout' workshops focused on topics chosen by the participants and were led a group of inspiring facilitators, including:
Prof. Vu Nguyen, HCMC University of Education
Loc Do, HCMC University of Economics and Finance
Tien Bui, HCMC University of Education
Peter Huynh, Tan Tao University
Jonathan Lankford, Tan Tao University
Robert Goldberg, Tan Tao University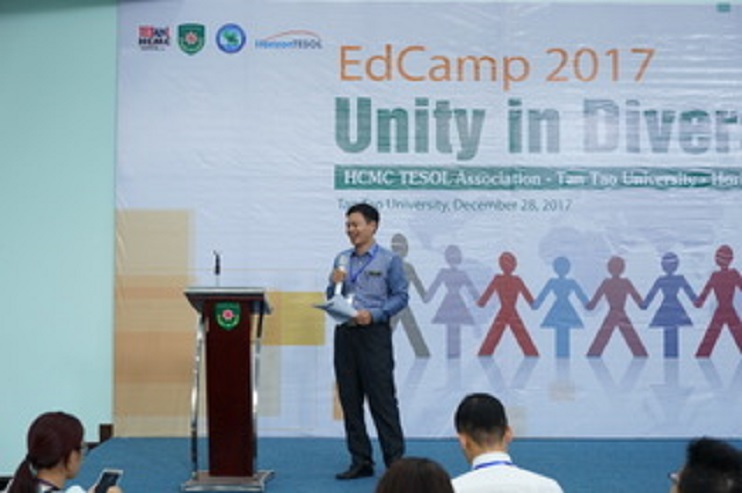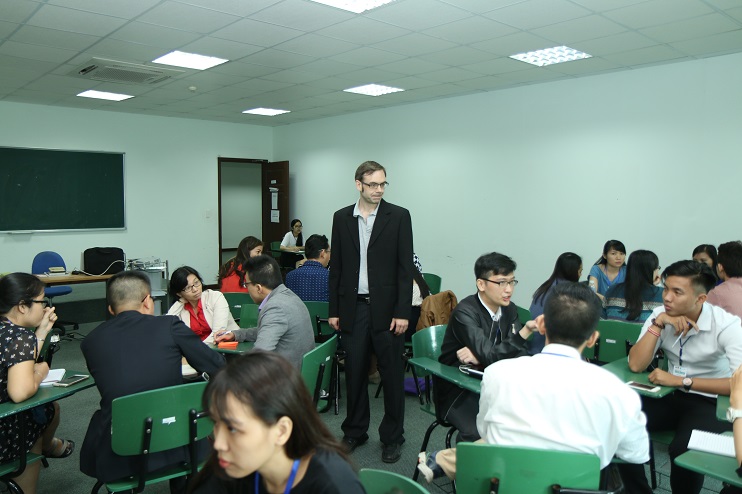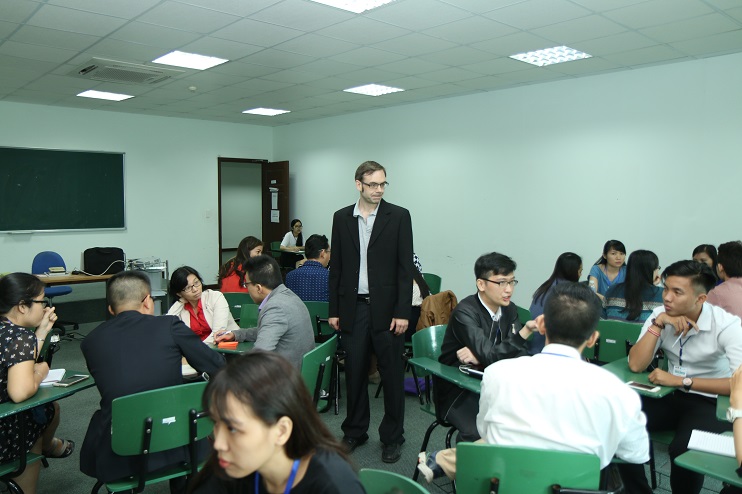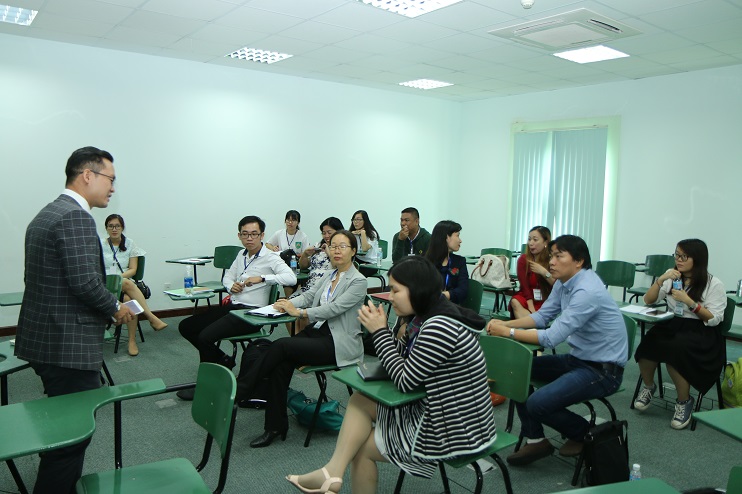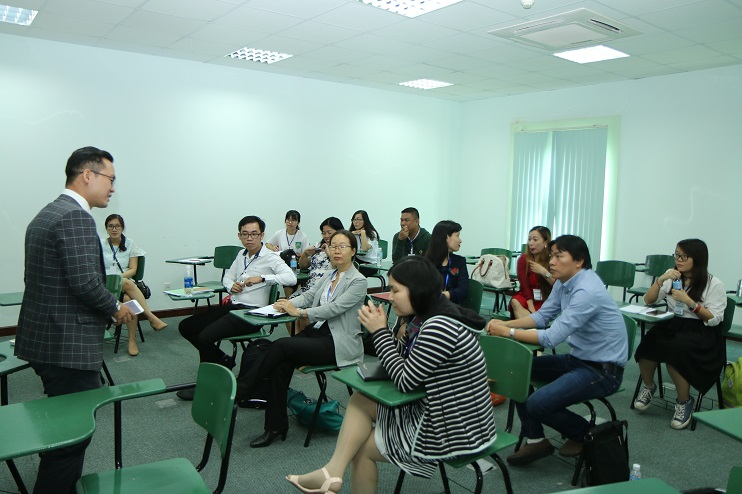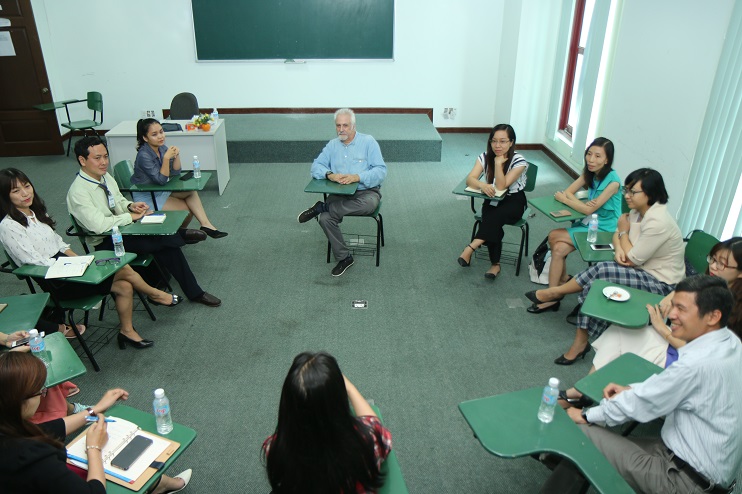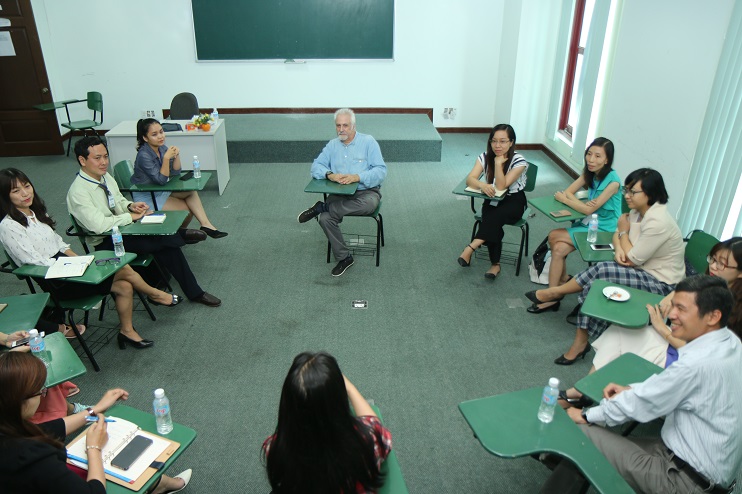 The topics that were explored in the workshops included:
Communicative Language Teaching
English For Specific Purposes
Blended Learning
Teaching Students to think Critically
Teaching Speaking & Writing
Dealing with large/multi-level classes
Project-based PBL
Teaching Presentation Skills
Curriculum Design
Youth Ambassadors Educational Conferences
Regarding Mr. Tien Bui's presentation:
"The Lower Mekong initiative …. is a partnership among Cambodia, Lao PDR,   Myanmar, Thailand, Vietnam, and the United States … LMI serves as a platform to address complex development and policy challenges in the Lower Mekong sub-region … LMI's Education Pillar encompasses programs that improve English language capacity, increases technical and teacher training, and foster greater regional cooperation."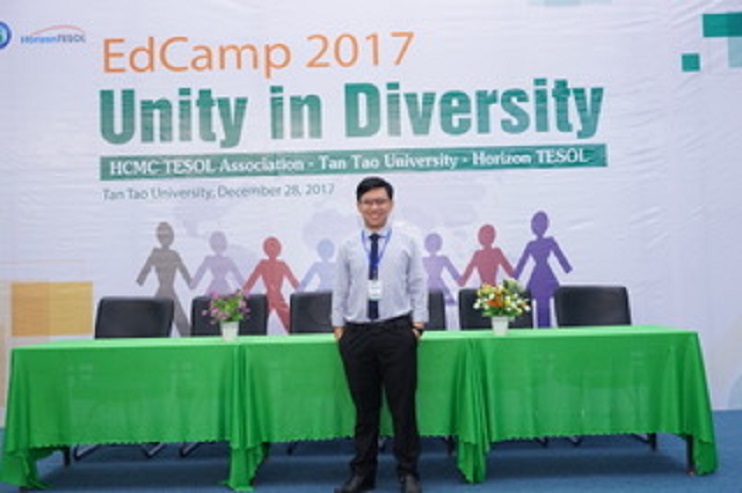 Clearly, the LMI's core curriculum for "Professional Communication Skills for Leaders" has much to offer and is a very valuable educational tool.  The curriculum can be found, free of charge, on the U.S. Department of State website – under 'English Language Programs'.
Candidly speaking, our one possible regret concerning the workshops was the length of time.  For the next EdCamp HCMC, it might be better to offer workshops that are
1 – 2 hours in length.  There was so much to share and discuss – in such little time.
In closing, the EdCamp HCMC 2017 event was an inspiring and positive learning experience.  It has paved the way for further EdCamp HCMC events — to serve as a catalyst for brainstorming, innovation, and problem solving in the English language teaching(ELT) field.  TTU looks fervently forward to a continued working relationship with the TESOL HCMC Association and Horizon TESOL, and would be delighted to co-sponsor additional events with other organizations in the future!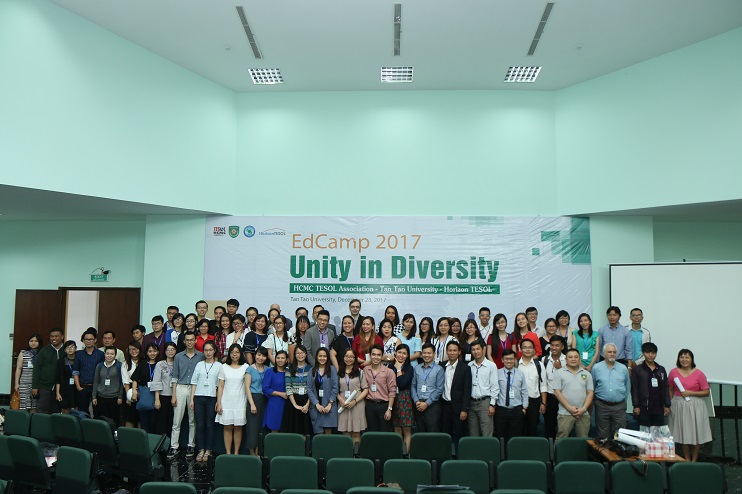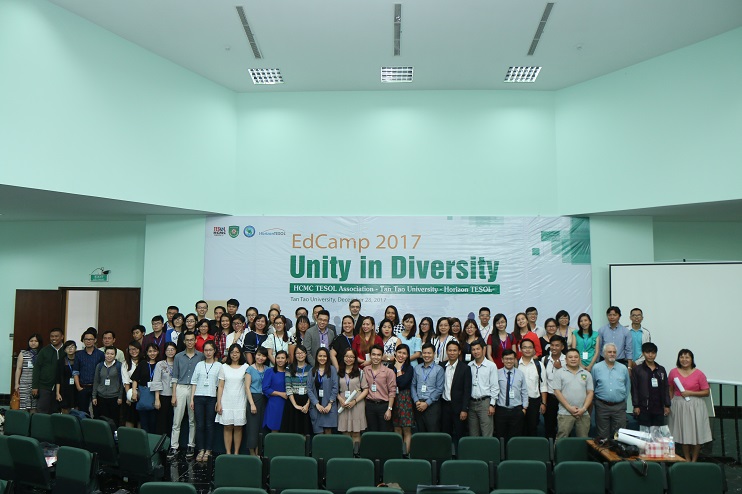 Here are some more photos taken from the EdCamp HCMC 2017.