With the 100% training program in English, practical design associated with businesses, international cooperation program, students of International Business and Business Administration of Tan Tao University (TTU) are open to many opportunities to become international entrepreneurs.
The Study Of This Era With Diversification
International Business & Business Administration are never outdated. This is always the gem because the market is always reshaping so it is necessary to have in-depth analysis and accurate forecasts of market demand … With the extreme fluctuations of the economy, the demand for human resources for the business sector will skyrocket. According to the Center for Forecasting Manpower and Labor Market Information in Ho Chi Minh City, the demand for human resources of the Economy – Marketing – Import – Export – Logistics from 2020 to 2025 has reached about 25,000 jobs per year.
Specifically, bachelors majoring in International Business & Business Administration at Tan Tao University (TTU) are provided with a solid foundation about building and implementing strategies in all types of businesses and industries (Production – Trade – Service); Researching, Analyzing and forecasting market demand; Building and deploying activities of international payment, international transportation and etc.
Upon graduation, TTU bachelors are offered jobs in logistics, aviation, import and export; International financial planner; Market research specialist; International marketing specialist; International investment consultant; Trade promotion specialist; International business administration consultant; International commercial law consultant; … For Business Administration major, students can apply to companies and corporations in economics, finance and securities; Becoming a Specialist in sales department, planning department, marketing department; Promoting to become team leader, head of sales, market survey, plan; Starting a business, establishing their own companies.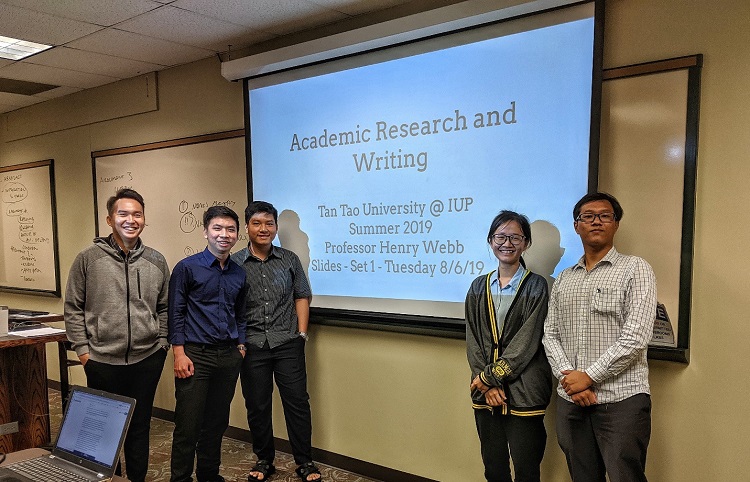 International Cooperation – Offering Students International Standard Learning Experience
Tan Tao University always strives to provide outstanding advantages through the program with a comprehensive learning experience and international integration. The school has established relationships and signed cooperation agreements with leading universities, academies and enterprises in advanced countries in the world.
With the advantage of 100% training program in English, practical design attached to the business, the Bachelor of International Business & Business Administration has many opportunities to become an "standard" international entrepreneur in future.
Typically, in 2019, 5 TTU students had a practical learning experience in the US with the Summer Internship at Indiana University of Pennsylvania, USA. TTU students have proven their talent and ability to become a global citizen and tried their best in an international environment. In particular, Tran Thanh Binh also seized the opportunity to practice at the Office of Senator Joe Pittman, Pennsylvania, USA.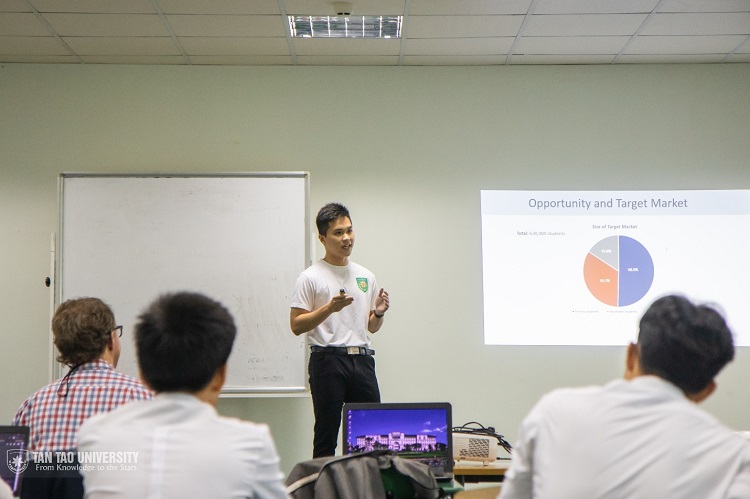 According to Dr. Fransisco Roma – Acting Dean of the School of Economics & Business Administration, although economics and business administration are now taught in many schools, the quality of training at TTU always has outstanding advantages. First of all, the theoretical training program goes hand in hand with real application. The curriculum is 100% in English. Students are instructed directly with successful businessmen in Vietnam and the US.
"Here, TTU students have developed the skills to succeed such as presentation and persuasion skills, HR management skills, time management skills and leadership", Dr. Fransisco Roma said.
Once graduated, they will become highly skilled in the International Business industry – A key position in the context of multi-link between countries.
Take advantage of international learning opportunities
TTU creates special conditions for students such as organizing short-term internships to the US and Singapore to expand their horizons. Since then, students have in-depth imprints on their CVs in the future.
Prof. Thach Ngoc Nguyen – Vice Provost of TTU said: "The orientation of Tan Tao University follows the American Liberal Arts model and goes beyond to attract more and more students from ASEAN countries and the United States".
According to the admission plan in the academic year 2020-2021, Tan Tao University has 08 majors including: Biotechnology, English Language, Computer Science, General Medicine, Nursing, Medical Technology, Business Administration and International Business.
Details of Admission Plan of TTU in academic year 2020 – 2021: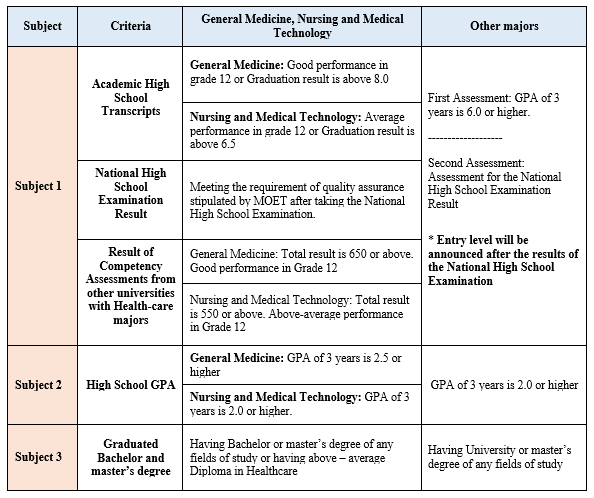 Contact Us: Tan Tao University
Tan Duc E. City, Duc Hoa, Long An – Phone: (0272) 377 5995 – Hotline: 0981 152 153 (Zalo)
PR Department