Tan Tao University (TTU), the first US-standard non-profit private university in Vietnam, has announced the starting of the "Liberal Arts" Scholarship Fund with a total value of up to 50 billion VND to support 100% tuition fee support for 100 excellent new students in the class of 2022 to study at the school.
According to the school's leadership, sharing knowledge, supporting creativity, and making a difference will change the future. Awarding scholarships is the most practical way for students to realize their goals, acquire knowledge, and constantly develop themselves to build successful careers in the future. Therefore, Tan Tao University's "Liberal Arts" scholarship fund takes a completely new approach by accompanying excellent students from the moment they enter the university door to the completion of their learning program.
A solid fulcrum for a career
Tan Tao University will award 100 full scholarships worth up to 50 billion VND to encourage new students who have achieved high results on the National High School Exam 2022 to continue their efforts in studying at the university and create favorable conditions for students with difficult circumstances to firmly go to school.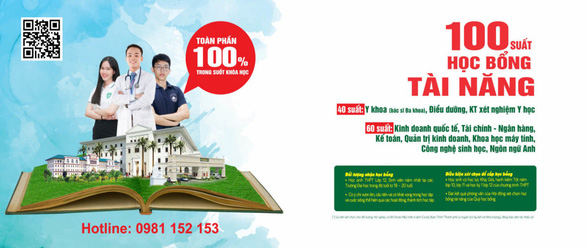 Specifically, 30 full scholarships worth 150,000,000 VND/year for Medicine, 10 full scholarships worth 40,000,000 VND/year for majors: Nursing, Medical Laboratory Technology learn. 60 full scholarships worth VND 25,000,000/year (Vietnamese system) or VND 40,000,000/year (English system) for majors: English Language, Computer Science, Accounting, Finance – Banking, International Business, Business Administration, Biotechnology.
Scholarship recipients
High school students in Grade 12, first-year students at Universities, aged from 18 to 20 years old;
Students who have encouragement, ambitions and aspiration in study and life as demonstrated through the activities, academic achievements.
Criteria for scholarships
The students ranked good and very good, well conduct in 10th grade, 11th grade and 12th grade 1st semester of the general education program.
The students passed the interview of the Talent Scholarship Selection Council.
Focus on the practicality of the training program
Tan Tao University applies the curriculum of Duke University, Durham, North Carolina, and signed a training cooperation agreement with Rice University, Houston, Texas, USA. A cooperation program to train medical, engineering, and economic students at Yonsei University and Konkuk University in Seoul, Korea. Here, students will be taught by a team of highly qualified, enthusiastic, and experienced lecturers, with 64% of the lecturers being foreign professors, PhDs, or Vietnamese trained abroad.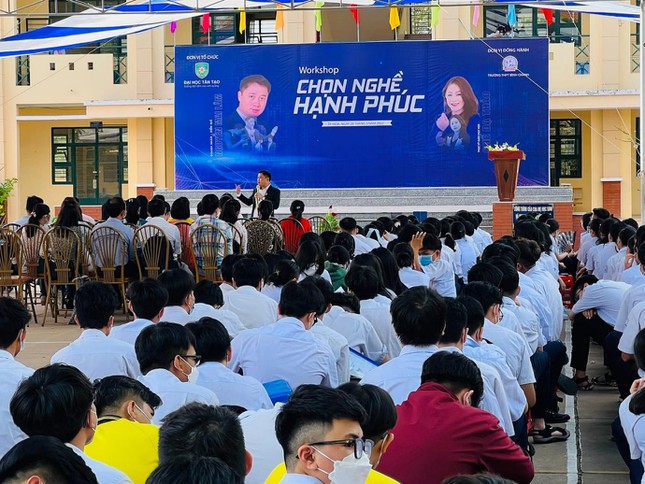 One of the top priorities of Tan Tao University is creating a realistic learning environment, providing students with working experience. The school has close links with the community, businesses, and employers to develop courses, organize internships, training, professional development programs, etc. in response to market demands. As a result, students develop connections, experience, and confidence in their ability to transform new knowledge into worthwhile intellectual baggage.
Furthermore, students who excel academically have the chance to participate in study and internship experiences in the United States, allowing them to gain valuable research skills and gain international employment prospects.
Diverse extra-curricular activities
Tan Tao University students will enjoy an experiential learning environment that includes a range of, clubs, groups, and extracurricular events and volunteering activities. This is an excellent opportunity to assist students to form bonds, get more enthusiastic about studying, and build leadership, planning, communication, problem-solving, and decision-making abilities, among other things.
Previously, on March 27, 2022, Tan Tao University and Tien Giang Provincial Youth Union signed a cooperation agreement to award full scholarships to 38 high schools, along with awarding two full scholarships to students at An Ninh High School-Long An. Following the program, on April 7, 2022, Tan Tao University awarded 16 full scholarships worth nearly 8.5 billion VND to high schools in the Binh Chanh district of Ho Chi Minh City. Ho Chi Minh.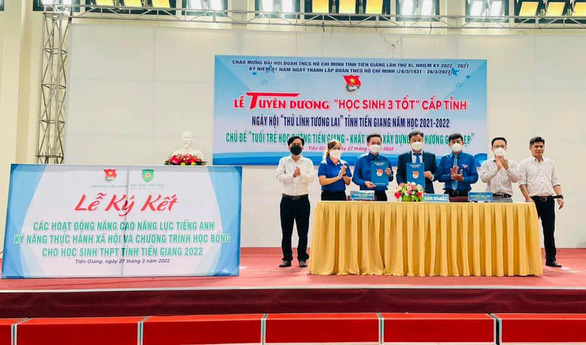 It is known that in 2022, Tan Tao University will enroll 480 students from the regular university system. In which case, the target for candidates majoring in Business Administration is 35, International Business is 35, the English Language is 40, Finance and Banking is 20, Accounting is 20, Biotechnology is 35, Computer Science is 35, Medicine is 200, Nursing is 30, and Medical Laboratory Engineering is 30.
Admission applications will be accepted in two phases: Phase 1 from March 1, 2022, to May 31, 2022, and Phase 2 from June 1, 2022, to June 30, 2022. The next phases will be officially announced on the website of Tan Tao University. However, the school may stop accepting applications when the quota is met before the deadline.
For more information about scholarship criteria, please visit:
https://tuyensinh.ttu.edu.vn/hoc-bong-tai-nang/
Source: tienphong.vn