One of the key factors for success in medical education lies in the quality of the teaching staff. At the School of Medicine, Tan Tao University, many of the world's leading professors are working tirelessly to contribute to the development of Vietnamese medical students.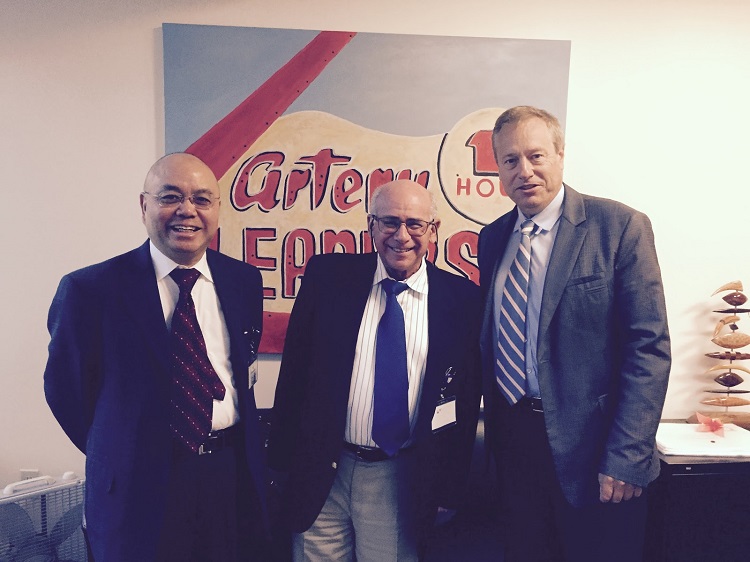 Beyond the wildest dreams
After many years, Vu Tri Loc — a senior student at the School of Medicine, Tan Tao University — said that perhaps no other medical school in Vietnam teaches as well as Tan Tao.
In addition to permanent lecturers who are among the best in their field in Vietnam, the school has invited professors of international reputation to teach.
"Never even in my wildest dreams did I imagine that one day I would be studying with these professors," Loc said.
One of them is Prof. Kenneth Rosenfield from Harvard Medical School, who gives lectures on pulmonary embolism for medical students at Tan Tao University.
Prof. Rosenfield chaired the American Heart Association Committee on Diagnostic and Interventional Cardiac Catheterization between 2016 and 2017.
Another one is Prof. Peter Singer, former president of the American Thyroid Association, who still spends two sessions per week teaching the Vietnamese students remotely despite his busy schedule.
He also offers annual scholarships to medical students with remarkable academic achievements at Tan Tao University.
A special invitation was sent from Prof. Thach Nguyen, vice-rector of Tan Tao Univeristy, to Prof. Michael Gibson from Harvard Medical School, who is CEO of the Baim Institute for Clinical Research in Boston and listed in the top ten most cited medical scientists in the U.S, among many other big names in the field.
"Apart from opening our eyes to new perspectives and modern approaches, the professors also continuously update their knowledge of the latest medical research," Loc said.
"Students can miss out on a lot of new studies if we fail to keep ourselves updated even for just one day. The professors inspire us with a passion for research and finding new ways to help the sick."
Aside from teaching, the renowned professors also support students in attending international conferences and seminars, internships, and first-hand learning at leading hospitals in the U.S.
"I was an intern at St. Mary Medical Center in Hobart, Indiana, the U.S. and experienced medical practice in the leading country in the field," Loc said.
Finding opportunities for students to fly far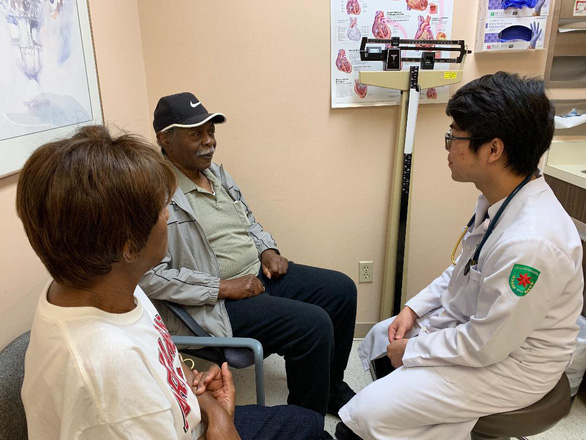 After many years teaching at medical schools in foreign countries, Prof. Thach Nguyen said teaching methodology and the role of the teacher are very important in training a doctor with both knowledge and virtue.
According to Prof. Thach Nguyen, Tan Tao University always looks for the best opportunities for students to learn, experience, and look into puzzles to find solutions so that later in life they can become extraordinary and even more successful than their teachers. That is a learning mindset popular in the U.S. that is being applied at Tan Tao University.
Prof. Thach further analyzed that at American medical schools, focus is placed on clinical and first-hand training, unlike at many new schools in Vietnam and Asia.
This is partly because there are not enough clinical teachers or hospitals for a large number of medical students.
Therefore, lecturers at Tan Tao University pay great attention to students' practical knowledge, especially through internships, supplementary classes, seminars, international conferences, and more.
In addition, Vietnamese and American lecturers at Tan Tao University also place emphasis on training students to be critical thinkers, which in the field of medicine means solving problems wisely and finding the best treatment courses at a lower cost to save money for patients, their families, and society.
Prof. Thach Nguyen added that it is the leading medical professors in Vietnam and around the world who are teaching at Tan Tao University that help keep students updated on the latest medical trends and research to always keep up with the world.
"The professors teach by two ways: persuasion and demonstration. Students observe how their professors diagnose and treat patients clinically, from which they learn how to deal with similar cases in practice," said Prof. Thach.
Practical events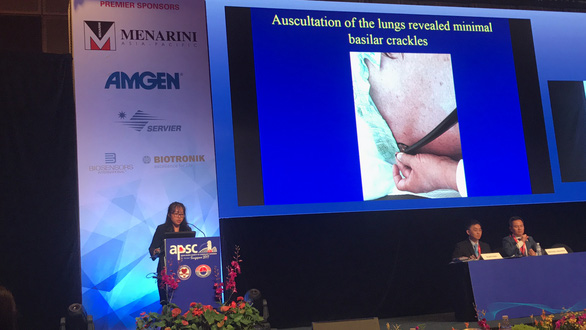 Tan Tao University regularly organizes many non-profit but practical and beneficial events for the community. Recently, on April 21, the university invited Prof. Ngo Bao Chau from the University of Chicago in the U.S. to participate in an online talk with hundreds of students and lecturers from many universities in Vietnam during the COVID-19 pandemic.
During the talk, Prof. Ngo Bao Chau and Prof. Pham Gia Khai — former president of the Vietnam Heart Association Vietnam — focused on critical thinking in liberal education, sharing multiple perspectives on learning in the technological era and the role of teachers in providing guidance.
"In the old days, teachers told us what the truth was. But now, I think this view no longer stands. A great teacher is one who knows how to ask good questions and inspire us to find out the truth by ourselves," Prof. Chau shared.
Previously, Tan Tao University also held many talks with leading professors to expand the view for students, such as those with Prof. Michael Gibson, Prof. Andy Nghia Nguyen — director of hematology at the Department of Pathology and Laboratory Medicine at the McGovern Medical School, University of Texas, Prof. Dr. Sandeep Nathan — director of the Interventional Cardiology Fellowship Program at the University of Chicago Pritzker School of Medicine, and others.
"We always build the School of Medicine, Tan Tao University to break through for success, with new ideas, a positive mindset, and above all reassurance for students," said Prof. Thach Nguyen.
"Tan Tao University's medical students started studying online a week after Tet holiday [February 17] and continued to do so during the epidemic to continuously acquire knowledge with the leading professors in Vietnam and the U.S.," he emphasized.
tuoitrenews.vn