Presentation at the national cardiovascular intervention conference in Da Nang (06 – 07/ 12/2019)
On the afternoon of Saturday, December 7, 2019, 13 students from TTU School of Medicine participated and presented at the 6th National Cardiovascular Intervention Conference in Da Nang. The 6th National Cardiovascular Intervention Conference is a large conference, with many reports from prestigious speakers on various topics. This is an opportunity for students to learn, improve their English, presentation skills and expand their medical knowledge.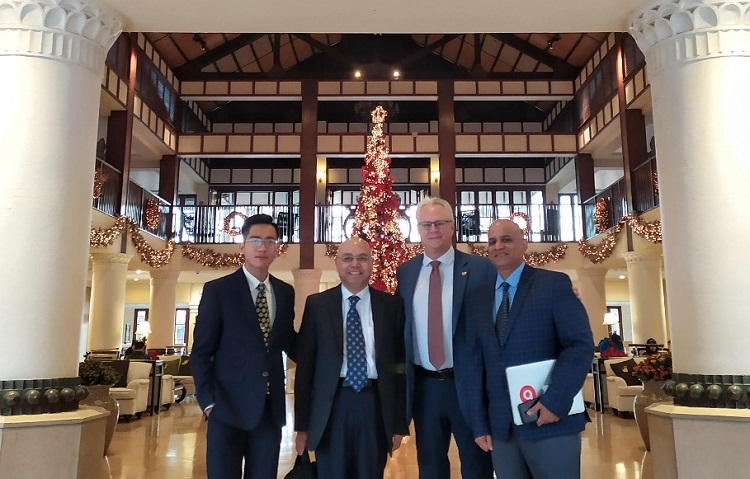 After having breakfast with Prof. Tim Henry, Vice President of the American Society of Angiography and Interventions (SCAI) and Prof. Keshav Nayak, from San Diego, Prof. Thach Nguyen and Truong Trung Duc took a picture before the opening of the conference.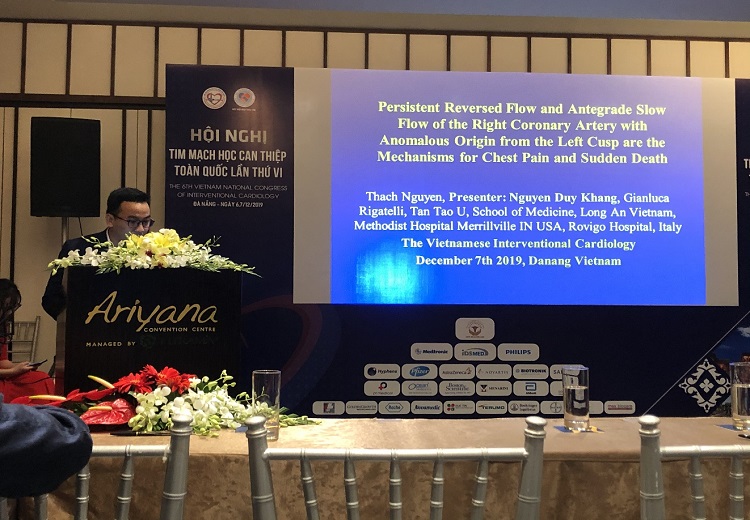 Opening presentation came from Mr. To Quang Luat – "Coronary Injuries Triggering Acute Coronary Syndrome Was Caused by Violent Collision Between Antegrade and Retrograde Coronary Flow: A New Hypothesis for Atherosclerosis"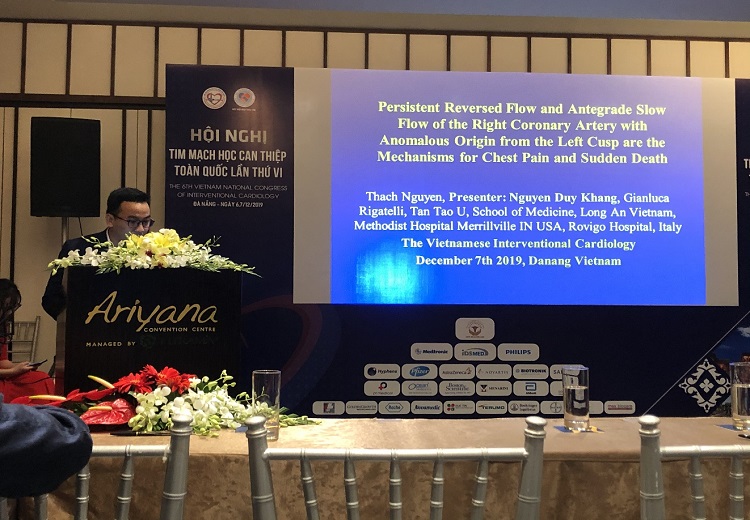 Student Nguyen Duy Khang presented: Comparison of Flow Patterns by Computational Fluid Dynamic study and Coronary angiogram in Anomalous Origin from the Opposite Sinus with Intramural Segment and Potential Impact of Intramural Segment Stenting
Student Le Xuan Minh Phuc presented: The Value of Heart Fatty Acid Binding Protein (H-FABP) in the early diagnosis of acute myocardial infarction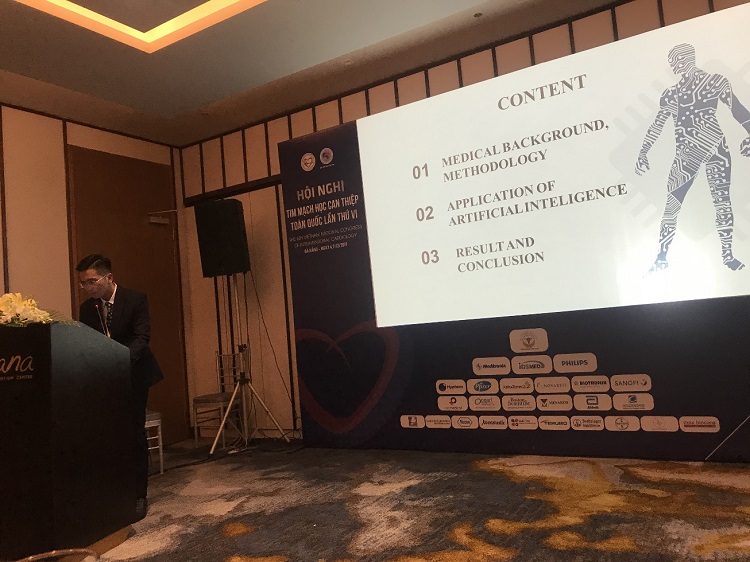 Student Truong Trung Duc presented: Acute Coronary Syndrome Was Caused by Coronary Imaging Diagnosis by Machine Learning Recognition of Laminar, Turbulent and Retrograde Flow.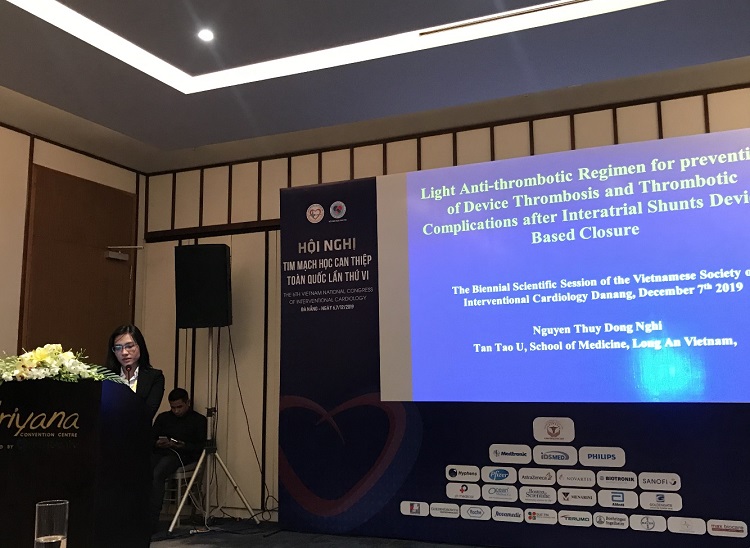 Student Nguyen Thuy Dong Nghi presented Light Anti-thrombotic Regimen for prevention of Device Thrombosis and Thrombotic Complications after Interatrial Shunts Device-Based Closure.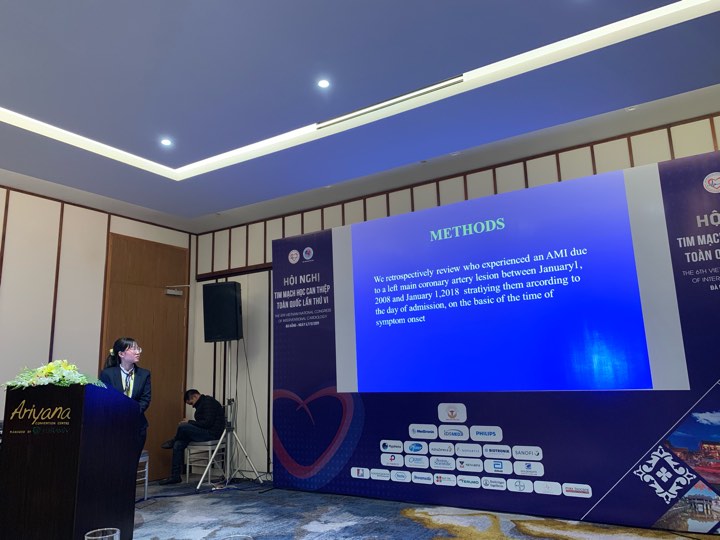 Student Le Dang Mai Anh presented Tuesday Left Main: Chronobiology of Acute Myocardial Infarction Due to Left Main Disease.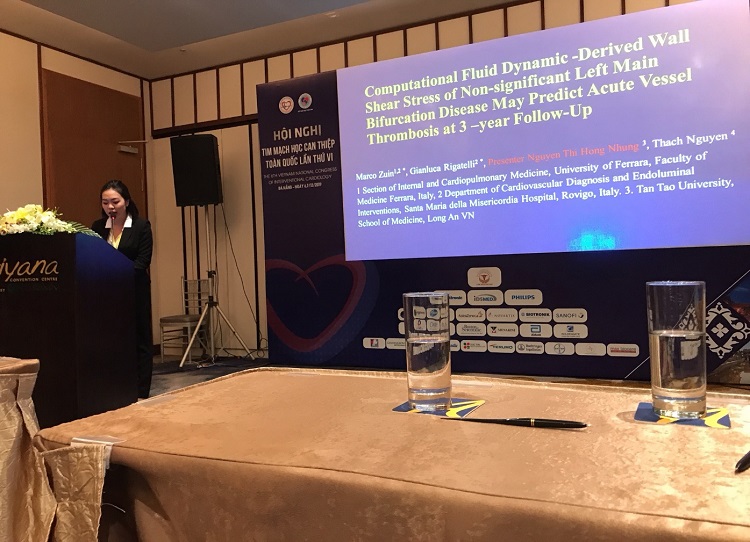 Student Nguyen Thi Hong Nhung presented Computational Fluid Dynamic – Derived Wall Shear Stress of Non-significant Left Main Bifurcation Disease May Predict Acute Vessel Thrombosis at 3 –year Follow-Up.
Student Bui Ngoc Thao Tien presented: Sudden Cardiac Death in patients with Patent Coronary Arteries: New understandings and evidence.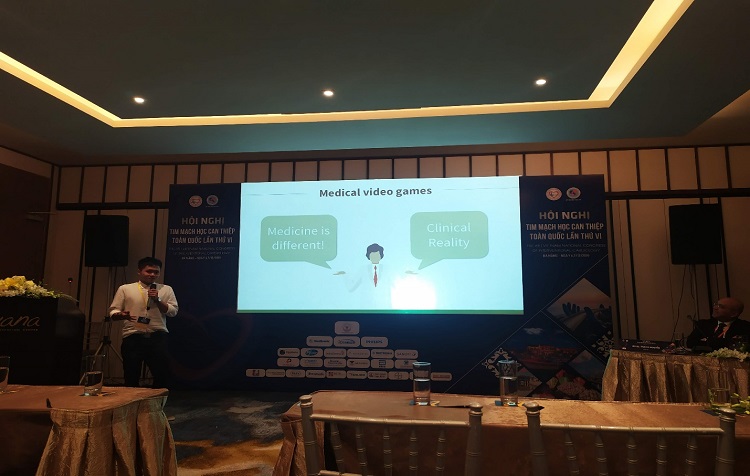 Student Do Nguyen Nhat Quang presented: "Video game as a New Tool to teach Medicine: Providing Medical Information for the IT Engineer".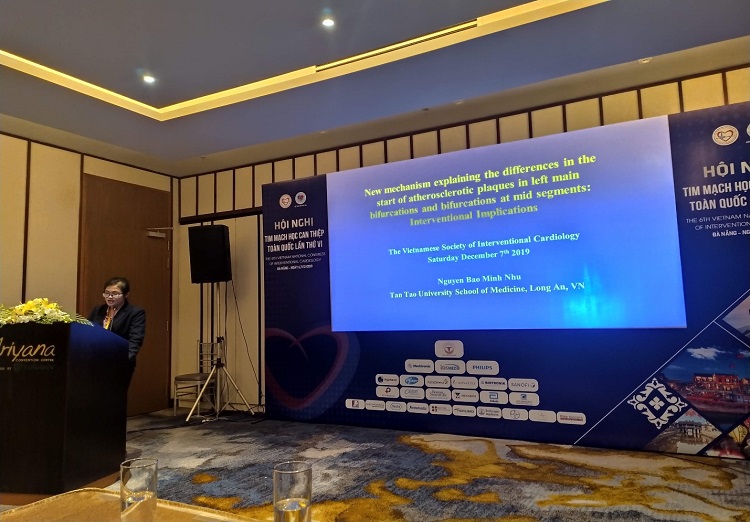 Student Nguyen Bao Minh Nhu presented New Mechanism Explaining the Differences in the Start of Atherosclerotic Plaques in Left Main Bifurcations and Bifurcations at Mid Segments: Interventional Implications.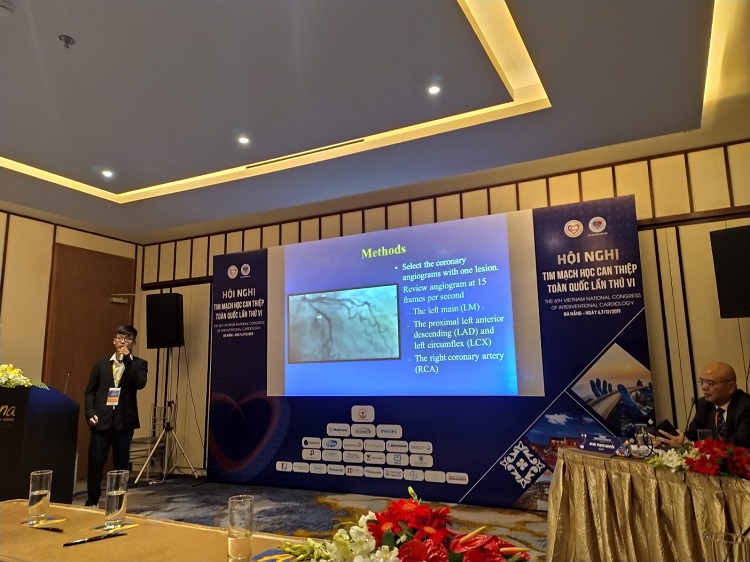 Student Tran Minh Duc presented: Abnormal Flow by Hydraulic Methodology in Coronary Arteries Correlated with Lesions while Normal Laminar Flow Showed no lesion, Because None Was Started: Important Predictor of Future patency.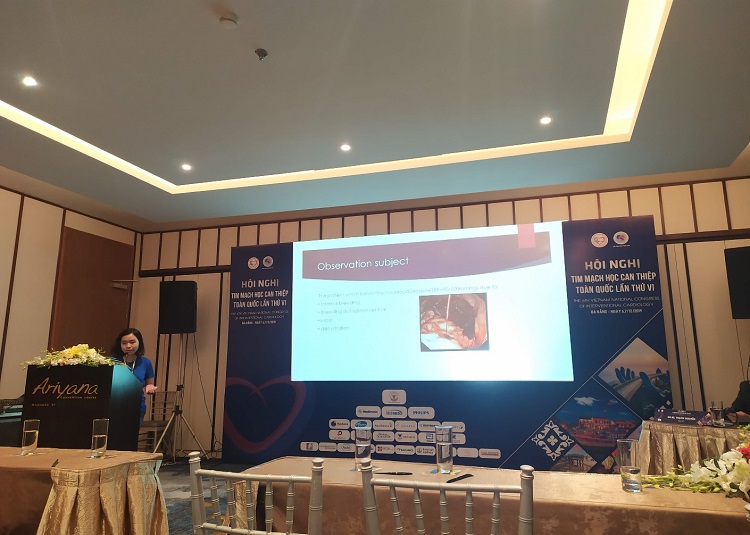 Student Nguyen Thanh An presented: Three-year Follow-up of a New Test which Correctly Predicted Which Patients with Borderline Hypotension Might Develop Hypotension within the Next 24 Hours.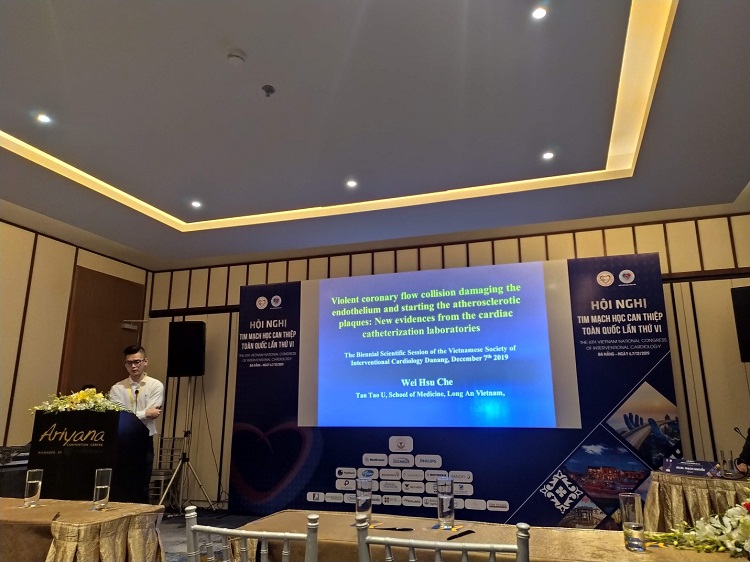 The final presenter was Mr. Wei Hsu Che about "Violent coronary flow collision damaging the endothelium and starting the atherosclerotic plaques: New evidences from the cardiac catheterization laboratories".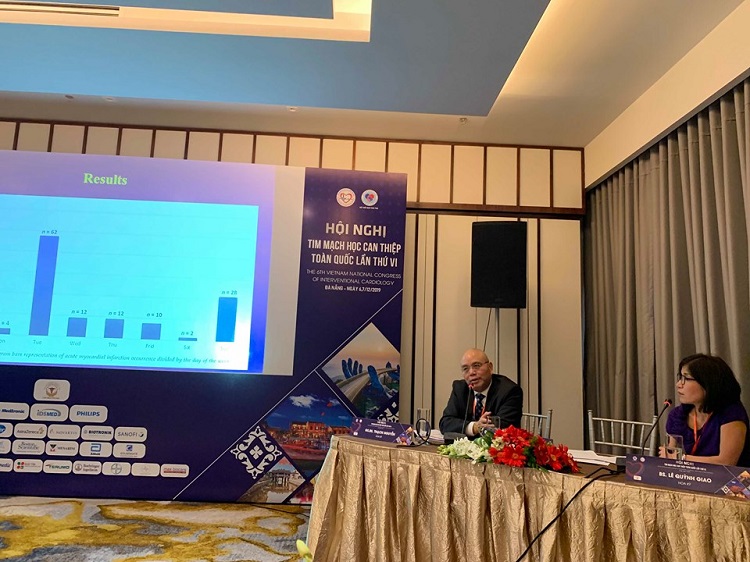 At the end of the presentation, the Chairman and Chairwoman, including Professor Thach Nguyen and Doctor Quynh Giao, had a few questions for the reporters, as well as commented on the presentations. "I am very proud of the students from TTU School of Medicine who reported new topics in English fluently and confidently"- Professor Thach Nguyen.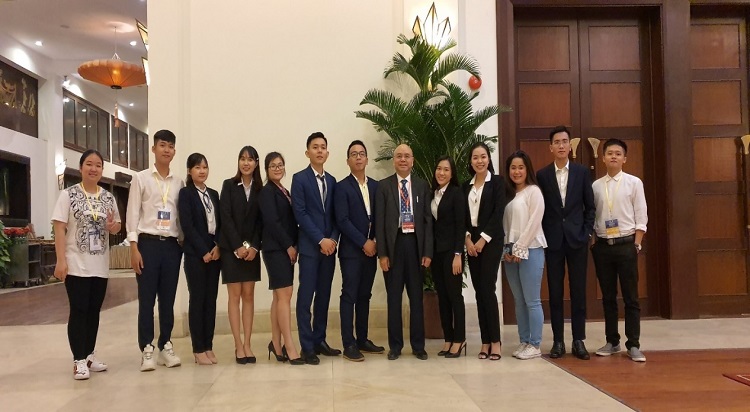 Students took photos with Professor Thach Nguyen at Gala Dinner.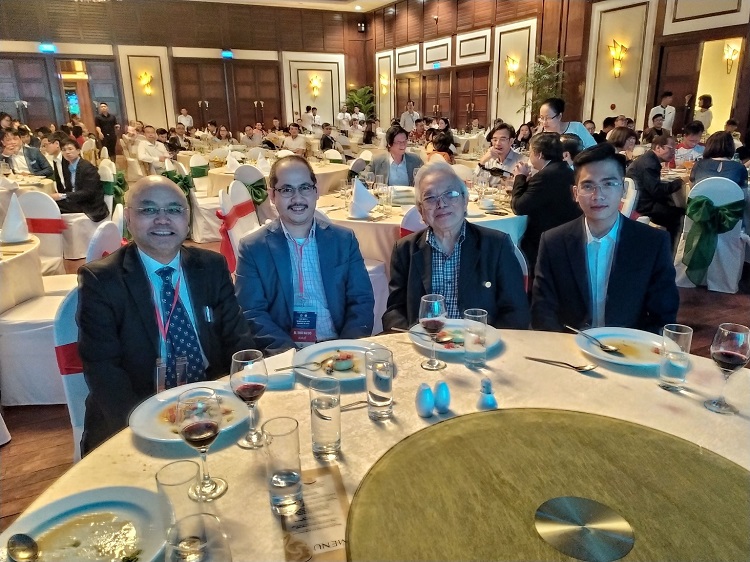 Gala Dinner with Professor Thach Nguyen, Professor Pham Gia Khai and Doctor Tung D Mai.