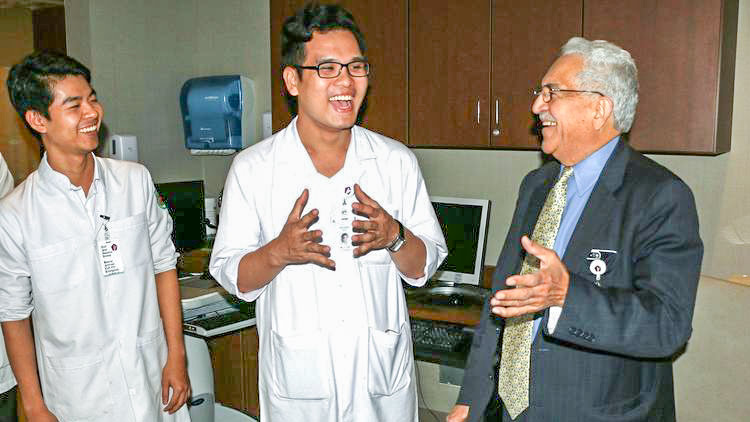 Dinh Truong began learning English when he was 8, but spent less than an hour each week in his third grade class. He continued learning it while taking classes at his university in Vietnam.
Trien Tran began learning our language in sixth grade, though his rural school did not focus much attention on teaching English. His efforts accelerated as a first-year medical student.
"That is why I cannot even speak a simple sentence," Tran told me.
This is not entirely true. Like most of his fellow Vietnamese medical students who traveled to Northwest Indiana for an eight-week internship program, Tran is humble and modest about his skill sets.
All 12 students, who attend Tan Tao University's School of Medicine, are soft spoken and polite to a fault, as their culture dictates.
"I'm working on them to be bold and more assertive, and to take a stand," said Dr. Vijay Dave (pronounced Dah-vay), director of the long-running program. "Slowly they are improving."
These aspiring doctors started the intensive "summer shadowing" program in late May to learn from our area's best physicians and health care professionals in real-life hospital settings. I've been keeping tabs on the third-year medical students since their orientation day at St. Mary Medical Center in Hobart.
Their program, now in its 38th consecutive year, has educated more than 1,100 medical students from across Northwest Indiana and from several countries, including Germany, Spain, Mexico, Nigeria and Vietnam.
"Our rotation changes every week with a lot of departments," said Truong, whose favorite so far has been surgery. "Especially the C-section cases for an (obstetrician-gynecologist). I intend to become an OB-GYN specialist, so I spend more time on this in surgery."
Like many of the Vietnamese students staying here into mid-July, Truong lives in Hobart, with a St. Mary Medical Center nurse who welcomed him into her home.
"My host is extremely nice," Truong told me. "Hobart treats me like a member of the family."
In his free time, which can sound like an oxymoron to these busy students, he usually hangs out with his friends, goes shopping or does some sightseeing.
"This area is great. It's safe and peaceful. People are friendly," said Truong, who enjoys listening to music to help him relax. "Sometimes, when I have difficult cases in the hospital, I use my free time for studying or discussing with my friends."
He keeps in touch with his family in Vietnam, especially his mother, who texts him every day and calls him once a week. He misses her home-cooked meals.
"I miss my home, but not much, because I spend most of my time on being in the hospital and studying," he said. "I know this will be the biggest present for my family."
The program partners with The Methodist Hospitals and Indiana University Northwest's School of Medicine where the students will be taking part in the cadaver prosection course this coming week.
"I have learned a lot of things which make feel so lucky for this opportunity," Tran said. "The clerkship is a very different experience than anywhere else I have learned."
"The most wonderful thing that I learned from the doctors is teamwork, (which is) really different than in Vietnam," he said. "The healthcare system is totally better than in Vietnam."
"No matter how good you are here, no matter how high your position, you have to respect everyone in your team and ask their suggestion because the most important thing is what is best for the patient," he said.
"That is the key to succeed, which I have learned from Dr. Dave," he said. "I cannot forget a statement he said to me: 'If you want to earn money, please find another job. Do not chase money, let the money chase you.'"
Dr. Dave, a cardiologist, said the students' rotations have included his field of study as well as surgery, the cardiac cath lab, the emergency room and radiology. They also took a one-day excursion to Indiana University's medical school campus in Indianapolis.
"On their way back, I took them to Fair Oak Farms for ice cream," Dave said. "They also came to my house to see what a political fund-raising event is like in the United States. They enjoyed our Indian food."
Tran had heard so much about our country that not too much has surprised him.
"However, I really like the way people are here in traffic," he said. "It's very polite and civilized. They always stop to make way for pedestrians, which you never see in Vietnam."
This is the first time he's been away from home for so long.
"I miss my family, my lover, my friends and the street where I usually went to school," Tran said.
He describes Northwest Indiana as fresh, modern, beautiful and peaceful. (When is the last time you heard that description from residents here?)
"People here are very friendly, kind and civilized," Tran said.
The students have visited Chicago to see the Shedd Aquarium, Garfield Park, the Art Institute of Chicago and Millennium Park.
"Those are precious experiences which I cannot forget," Tran said.
Despite the current turmoil over Obamacare and its possible replacement, the students say the health care system is impressive.
"Honestly, your (health care system) is more wonderful than ours, many times over," Truong said. "Everything, from your facilities to the people, such as physicians, nurses, technicians and so on. I am surprised with your teamwork and inter-professional collaboration."
Dave said, "They will go back to Vietnam with a very positive impression about Northwest Indiana and the United States. I am very proud to be part of this."
One of the last things Truong told me was something I didn't expect.
"Thank you for caring about us," he said.
This article by Jerry Davich was published on Chicago Tribune on July 1, 2017
Source: http://www.chicagotribune.com/suburbs/post-tribune/opinion/ct-ptb-davich-vietnamese-med-students-update-st-0703-20170701-story.html