Hoa Trang Nguyen Award is a scholarship encouraging and honoring outstanding students who overcome difficulties and endeavor to earn high academic achievements. 2019 was the year that Hoa Trang Nguyen Award has been operated for 12 years to foster Vietnamese talents.
This year, Hoa Trang Nguyen honored primarily students having great achievements in International examinations, first prize in the National Examination for gifted students and top 5 students with highest scores in the National High School Exam 2019 of the South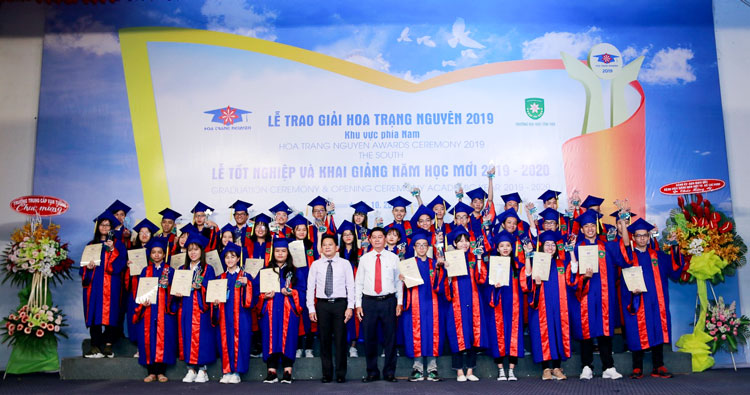 Hoa Trang Nguyen – Talents Honor Season
Vietnam is a country of thousands of years of civilization. Vietnam is a nation with a history-long tradition of fondness for learning. "If you don't learn, you won't be knowledgeable" – Vietnamese people always take learning as the basis and essential to practice morality. Therefore, during the thousands of years of building and defending the country, through every ups and downs of history, education and talent nurturing are always the highlights of our proud traditions. Inheriting the quintessence of from that idea, Hoa Trang Nguyen Organizing Committee always strives to find, honor and contribute to fostering talents for the country.
Dr. Tran Duong, Member of Founding Board of Tan Tao University, representatives of Hoa Trang Nguyen Organizing Committee shared: "This year, How Trang Nguyen Award has an opportunity to reward 300 students. The 12th Hoa Trang Nguyen Award will honor more than 100 excellent students in Southern provinces."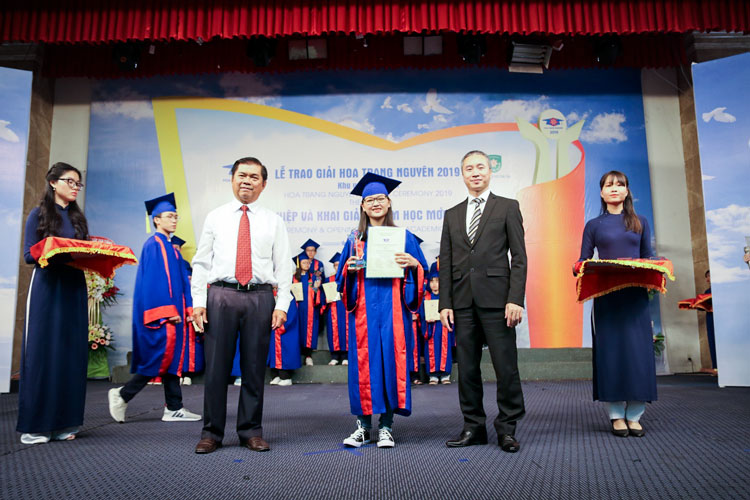 In addition to the prize as a certificate of the awards, trophy and being recognized as a member of Hoa Trang Nguyen Club, the students also received valuable gifts. Specifically, students who won the International Olympic received a cash reward of 10 million; students winning the first prize in the Nation Examination for gifted students received VND 5 million; students outstanding in the National High School Exam received VND 3 million.
Forging with Education
Hoa Trang Nguyen Award is the scholarship for the talents. This award was founded by Mme. Dang Thi Hoang Yen – the chairwoman of Tan tao Group in 2008. Up to 2019, more than 10 thousand students received Hoa Trang Nguyen award, with a total prize value of more than 27 billion VND.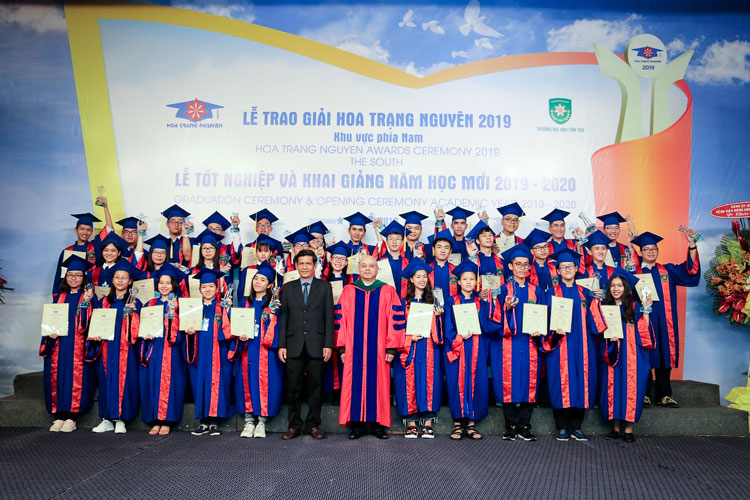 The Hoa Trang Nguyen Award has brightened the nation's talents year by year. Many flower buds this year have bloomed, showed their true colors to beautify life. The poinsettia flowers can be mentioned as: Pham Hoang Man – Hoa Trang Nguyen 2011, becoming the only representative of Vietnam to win the 2015 Southeast Asia Young Leader Award by Former President Barack Obama ; Nguyen Hoai Dam – Hoa Trang Nguyen 2008 is now a dynamic reporter of VTV; Ha Van Hoi – Hoa Trang Nguyen 2009 won the Vietnam Talent Award 2016. These are just a few of many people who have been successful and brought positive contributions to society.
 "Change is the key factor of success. If we fail to plan for success, we are planning to fail. Congratulations. Wishing both of Hoa Trang Nguyen students 2019 and previous Hoa Trang nguyen generations who are standing at the threshold of life will succeed in the future." Dr. Tran Duong – Vice Provost
All Hoa Trang Nguyen, wherever they are, whether working or studying, always strives to create a strong intellectual community, contributing significantly to the construction of the country in accordance with the high aspirations of the founder's award.