This year, the Hoa Trang Nguyen Award with the theme "Shining Journey" will be held in two regions: Tan Tao University campus (31 provinces from the Central to the South) and Hanoi (32 provinces in the North) with a total cash prizes of nearly 2 billion dong.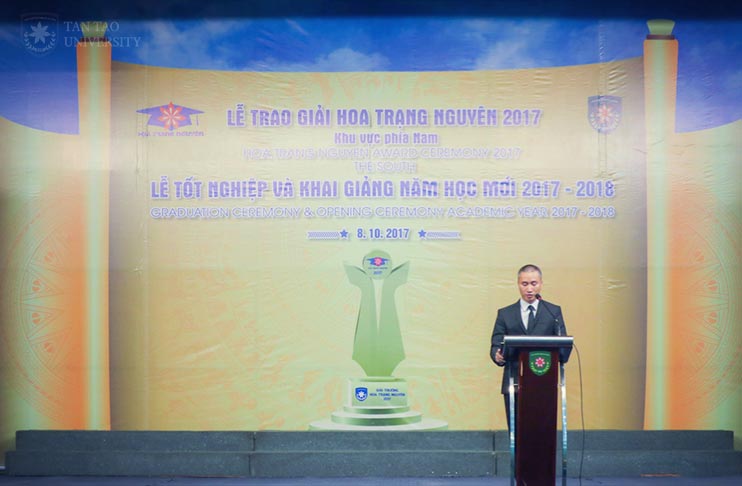 The awards ceremony to honor outstanding students from the Southern Region was held on October 8th at Tan Tao University campus. On the evening of October 7, the new awardees put together a lively gala night at the Canary Club Conference Center. The Hoa Trang Nguyen Awards Ceremony in the Northern Region will take place in Hanoi on October 21 after students offer incense and report their achievements at the Temple of Literature – the first university in Vietnam. The Northern awards ceremony will be broadcast live on VTC Digital Television.
The Hoa Trang Nguyen Award was founded in 2008 by Mme. Dang Thi Hoang Yen – President of Tan Tao Group, with the aim of nurturing young talents for the country, encouraging and honoring students with excellent academic results and helping young talents flourish and grow.
Over the past ten years, more than 10,000 students have bloomed and contributed to the society and the country. Their efforts and excellent achievements are not just the pride of the family and teachers, but also the pride of the society.
The Hoa Trang Nguyen has contributed to encouraging the spirit of learning enthusiasm, creativity for students across the country to succeed and shine more on the academic sky. The organizing board also added that Tan Tao University will always give priority to grant full scholarship for students who have won the Hoa Trang Nguyen Award for admission at Tan Tao University if they meet the enrollment criteria of the university.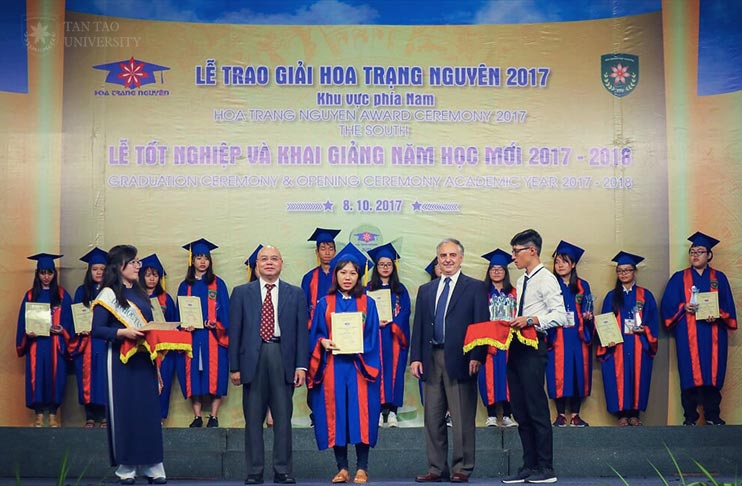 The 2017 Hoa Trang Nguyen Award will honor 110 outstanding students in Southern provinces and 199 students in Northern provinces, including 18 International Olympic medalists, 36 first-prize winners at the national academic competitions and highest scorers of provinces at the 2017 national high school exam. Apart from Certificates and the Academic Cups, Hoa Trang Nguyen awardees will also be granted as follows: medalists at the international Olympic science competitions: 10 million VND; first-prize winners at the national academic competitions: 5 million VND; highest scorers at the national high school exam: 3 million VND. The total value of the awards has amounted to 24 billion VND ford the past 10 years,.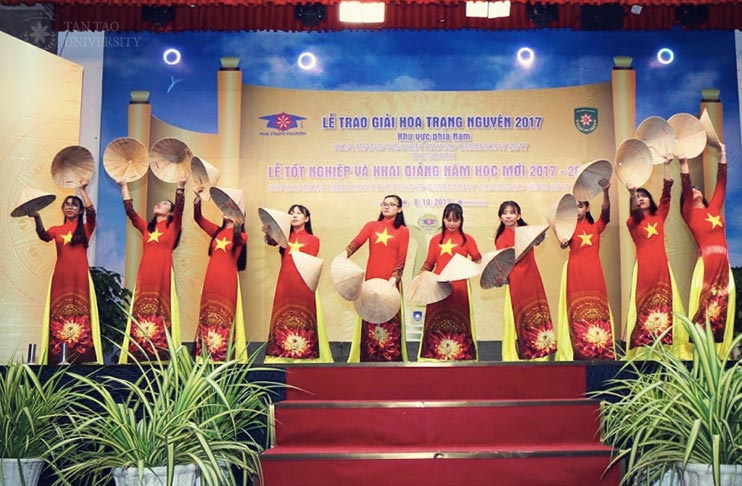 The Award is named after a beautiful red flower called Hoa Trang Nguyen with the aim of encouraging and motivating young talents to strive for the best and shine in the academic front. The Award has entered the 10th year, and the flowers have now grown and bloomed all over the country and across the globe. The talented people of the country have been working together to contribute to the society as the humanitarian meaning of the Hoa Trang Nguyen Awward. More than 10,000 awardees will strive for more achievements and not only become the pride of family and friends but also the pride of the society such as Pham Hoang Man – winner of the Hoa Trang Nguyen 2011, was the only representative of Vietnamese students to win the Southeast Asia Young Leadership Scholarship 2015 by US President Barack Obama; Nguyen Hoai Dam – winner of the Hoa Trang Nguyen 2008 is currently a well-known news presenter of Vietnam Television; Ha Van Hoi – winner of the Hoa Trang Nguyen 2009 won the Vietnam Talent Award in 2016; Nguyen Ngoc Phu – winner of the Hoa Trang Nguyen 2012 is a news anchor of Vietnam News Agency; Dang Thuy Duong – winner of the Hoa Trang Nguyen 2010 is a advertising specialist of Google Project Malaysia…
Source: dantri.com.vn