From the very beginning, much to the effort of the School of Medicine, TTU, non-traditional classes have been implemented with flying colors. Medicine, which is the backbone of the healthcare industry, has been the challenge for faculties and staff of the SOM for online courses. However, with the inviatation of many foreign professors, SOM has maximized the use of online classes with Zoom and Moodle.
During the chaos of pandemic, we still have astonishing breathrough in learning and teaching. According to Prof. Thach Nguyen, Vice Provost of TTU: "We always aspire for success, for academic breakthroughs with new ideas, positive thinking and above all, peace of mind for students. We are advancing with highly – acclaimed professors and doctors from the United States".
Dr. Ernest F. Talarico Jr – A close friend of TTUers
Associate Professor of Anatomy and Cell Biology from Indiana University, School of Medicine, USA, had paid a visit to Tan Tao University.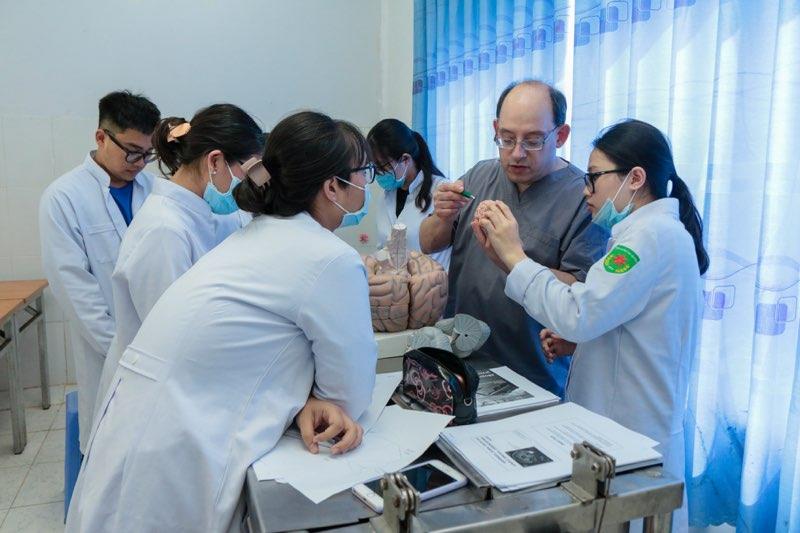 He was one of the firsts to participate in online teaching with TTU. He's been flying back and forth to Vietnam teaching Vietnamese students annually. His love for Vietnam began to grow since then.
We also send the sincerest gratitude for Prof. Peter Singer
who's been giving out scholarships for outstanding medical students in hardship.
As a professor of Medicine, he is the Head of the Department of Clinical Endocrinology at University of Southern California (USC). He used to be the President of the American Thyroid Association and also a member of the Executive Committee of the American Society of Clinical Endocrinologists. His effort has been well recognized for compiling clinical practice guidelines.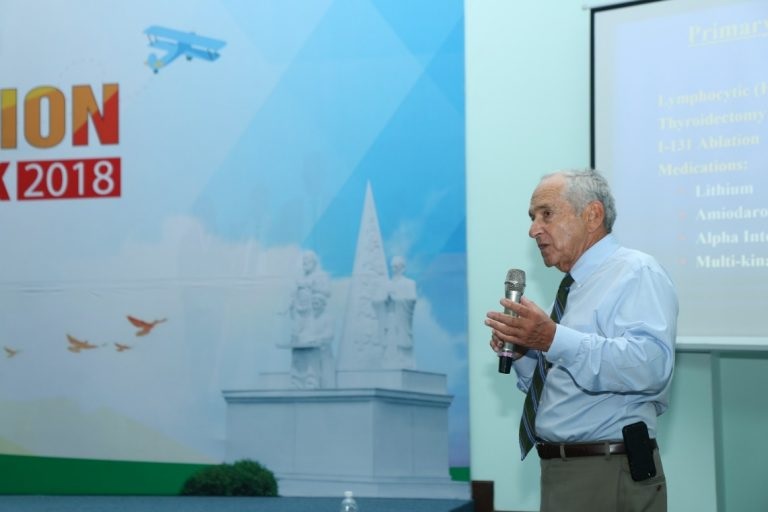 Each year, he's donated a part of his prosperity as a scholarship under his name for the straight-A but disadvantaged ones at TTU. Clinical cases discussion were also deployed twice a month under his monitor. These classes are publicly opened and joined for free, especially for medical students and doctors to grasp the up-to-date world medicine.
Professor Singer focuses on the diagnosis and the control of drug use in patients. By his experience as well as many years of teaching, he has brought a closer look for students about endocrine diseases.
It was difficult to invite American Professors to teach
And to get one from Havard is breaking the stoned-wall
Prof. Kenneth Rosenfield
As a Harvard Professor, he used to be the President of the American Society of Cardiovascular Interventions and a close friend of Asian Cardiovascular. He has made hyptonized lectures especially for TTU medical students, doctors and other Vietnamese students. It is not only the treatment of Pulmonary Embolism but also building a team to respond to Pulmonary Embolism situations as quickly as possible.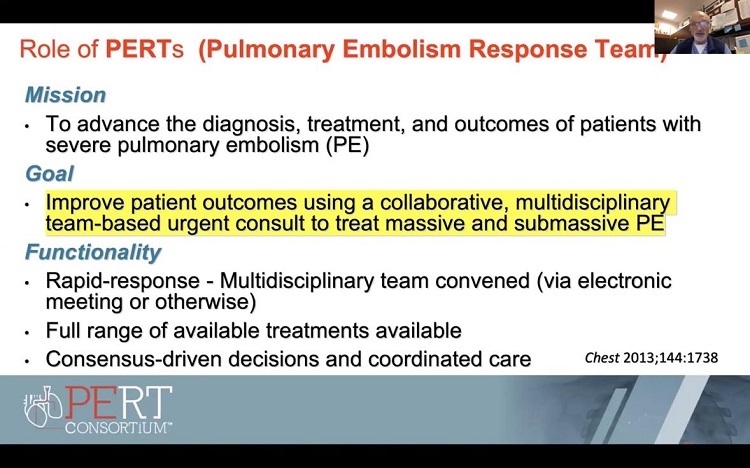 Treatment of Heart Failure
Assoc. Ann Nguyen – School of Medicine, University of Chicago
Assoc Prof. Ann from the USC has updated the lastest technology on heart failure treatment, life-prolonging drugs, as well as symptomatic treatment for patients.
The first sessions of Prof. Ann draws on academic understanding, and then progresses to clinical discussion, especially those from Europe attending with TTU students.
Basic Hematology with
Prof. Doctor Andy Nghia Nguyen
As the Director of Hematology, Department of Pathology and Medical Laboratory, he is also the Medical Director, Laboratory of Hematology and Coagulation, Memorial Hermann Laboratory, McGovern School of Medicine, University of Texas, USA.
This is a 8-day course co-organized by Prof. Dr. Andy Nghia Nguyen and TTU School of Medicine. Students who triumphantly complete the course through an online test will be issued a CERTIFICATE from Tan Tao University and Hermann Memorial Hospital.
We also get Prof. Doctor. Andy Nghia Nguyen discussed about testing on Covid-19
Lecture by GS. Dr. Andy Nghia Nguyen is a high-level topic and high scientific authority when the whole world is rushing for Covid-19 Vaccine. The disclosure of the Covid-19 test (RNA, antibodies), cases about epidemiology, and the reason why Vietnam has to do clinical trials three times to be able to ascertain the disease are included in this lecture which is an opportunity for medical students and students to have an update on prevention and treatment of this global pandemic.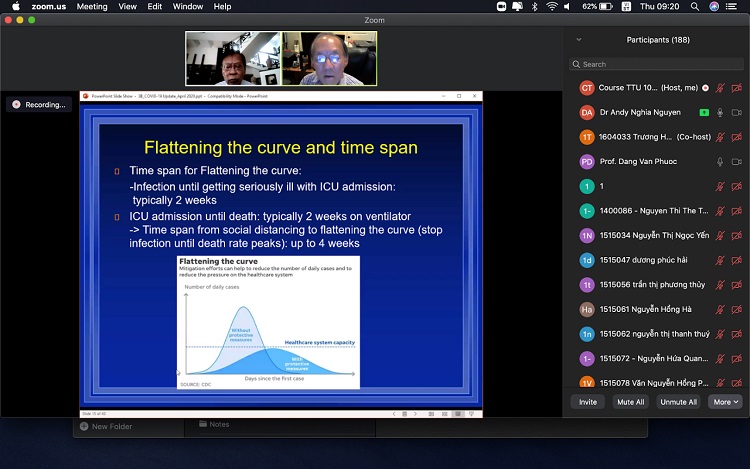 "A great teacher is the one who raises good questions"
As the first Vietnamese talent to be honored at the world's leading science forum in Mathematics, Professor Ngo Bao Chau has become the pride of Vietnam when he received the Fields Medal – the prestigious Nobel Prize of Mathematics at ICM World Math Congress 2010 in India.
Accompanied with Prof. Chau is Prof. Pham Gia Khai Professor Ngo Bao Chau also gave out many advice and comments on the ongoing learning process during the discussion. At the end, his words stroke students with: "We need to practice and work hard to make it succeed when the time comes"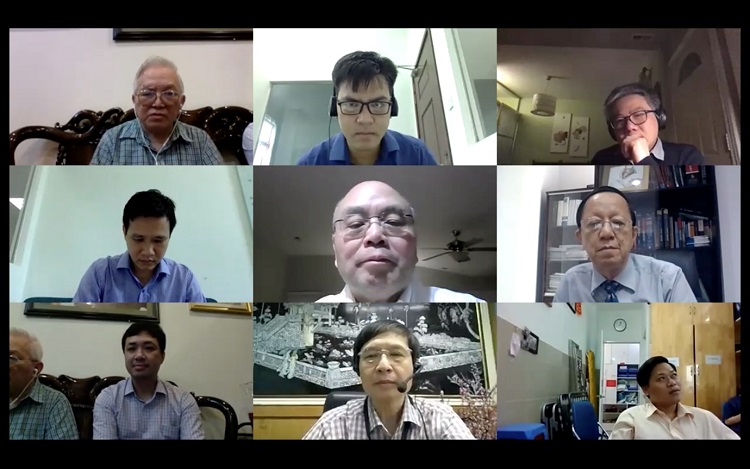 Update on Aortic Stenosis Treatment
with Prof. BS. Sandeep Nathan
Director of Cardiac Information Research Department, Pritzker School of Medicine, University of Chicago with Assoc. Prof. Dr. Pham Manh Hung, Director of the Vietnam Heart Institute, Bach Mai Hospital.
In this discussion we receive various perspectives from American cardiologists and cardiologists at the National Heart Institute, as well as the exchanges of leading professors.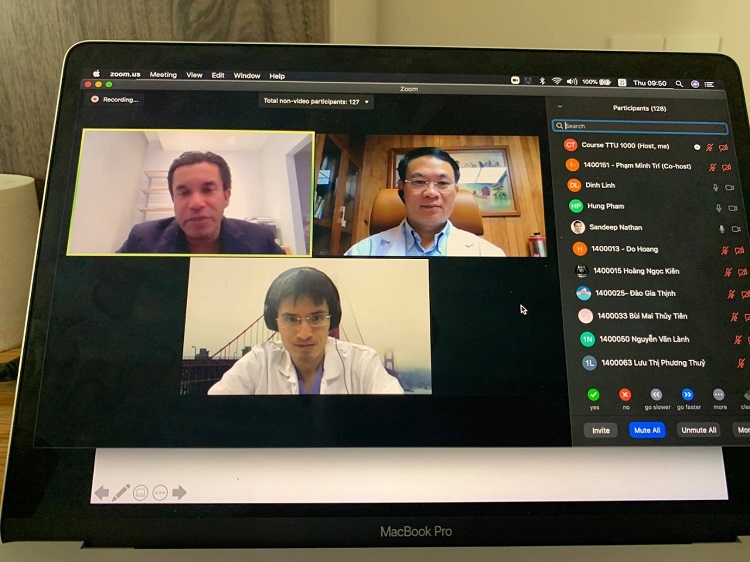 Prof. Michael Gibson
Professor of Medicine, Harvard Medical School, Executive Director of Baim Clinical Research Institute, Boston
"The design and challenges of Giga trials & Big Data Analysis – Thinking from the perspective of the 21st century" is the topic that he discussed with TTU students.
As one of the leading American doctors, Prof. Michael Gibson – Professor of Medicine, Harvard Medical School, CEO of Baim Clinical Research Institute, Boston, USA had an online seminar conducted entirely in English with all students of Asian universities. Prof. Gibson gave out the method on how to collect data as well as about research on large scale.
Prof. Gibson has revealed how the world's leading companies such as Apple, Alphabet (Google) create artificial intelligence (AI) products for cardiovascular care applications. Prof. Gibson has worked with the Apple development team to create a heart rate diagnostic function built in the Apple Watch.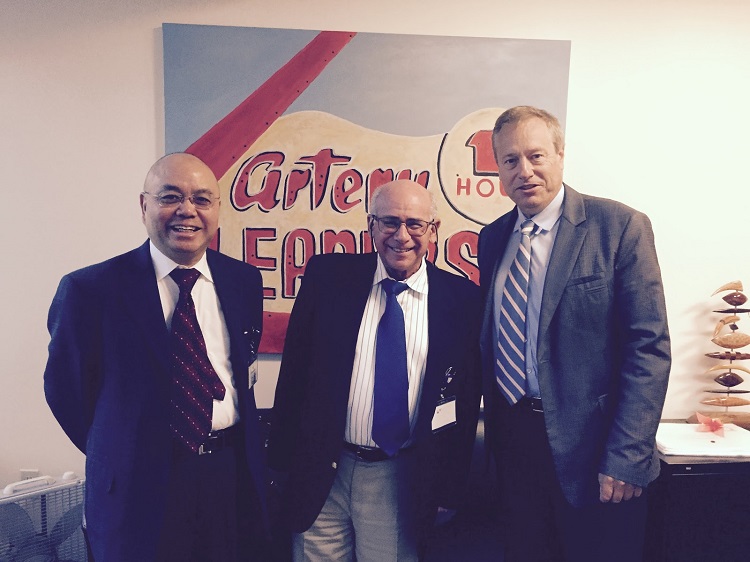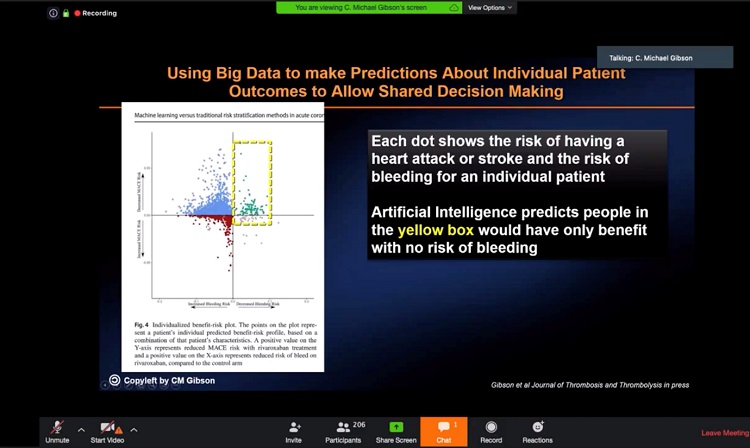 This is a class organized by Assoc. Prof. Doctor Duane Pinto, Assoc.Prof. Ho Thuong Dung (President of Vietnam Interventional Cardiology Association) and School of Medicine TTU c for interns, cardiologists, medical students from Ho Chi Minh City, Hanoi, Hue, Can Tho and TTU. Also in this discussion, Assoc. Prof. Ho Thuong Dung and Assoc. Prof. Doctor Duane Pinto also discussed strategies and ways to prevent COVID 19.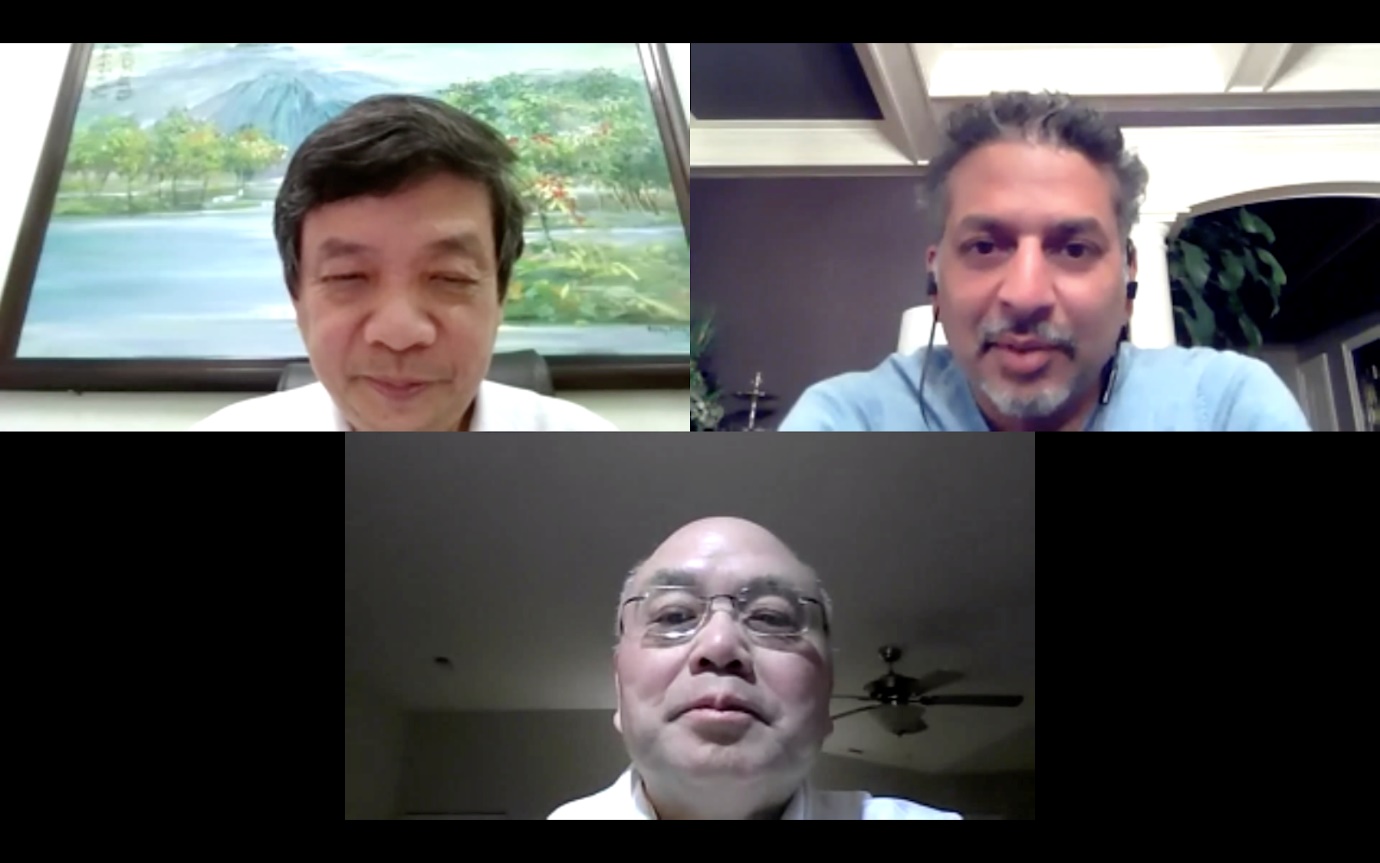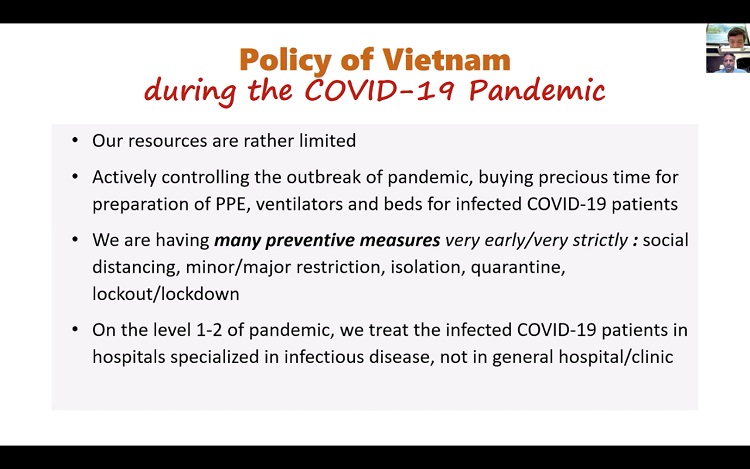 3 weeks has become special not only for teachers but also for all TTU students. These meetings were exactly scientific appointments to discuss mind-blowing problems. The path to knowledge is endless but great teacher will be a bridge for TTU students to come to life".
Vu Tri Loc – Senior of the School of Medicine (SoM)