June 5, 2014, Tan Tao University was greatly honored to welcome Mr. Kim Chang IL – Ambassador of the Democratic People's Republic of Korea to the Socialist Republic of Vietnam, who graciously paid a visit to the university. Warmly welcoming Mr. Kim Chang IL were Vice Provosts Dr. Tran Vinh Phuoc and Mr. Huynh Ho, along with Prof. Nguyen Van Thuan – Dean of School of Biotechnology.
At the meeting, Mr. Kim Chang IL expressed his desire to learn more about Tan Tao University. Mr. Kim Chang IL was particularly interested in TTU's scholarship policy for foreign students as this could provide excellent opportunities for Korean students from his country. He said: "English is now important language in all schools in DPR Korea, and is one of the means by which to approach advanced technologies which can contribute to the development of the country". Mr. Kim Chang IL was very happy to learn that TTU's academic courses are taught entirely in English, and that there is also intensive English class for all students.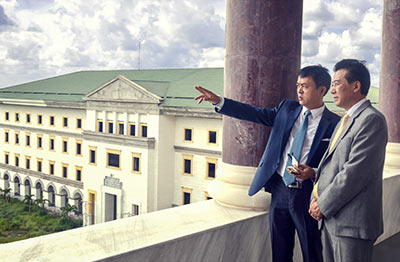 He added: "Most Korean scientists are young men who are very eager to come to Viet Nam to learn more about advanced technology". Responding to Mr. Kim Chang IL's comments, Dr. Tran Vinh Phuoc reported that all TTU faculty are high-profile professors and/or doctors with intensive international experience in various fields of research; 62% of them are U.S. citizens or graduates of leading U.S. universities with teaching experience. Recently, Rice University and Tan Tao University signed a memorandum of understanding at Rice on May 13. The agreement gives Rice a consultative role as Tan Tao grows from 5 schools to an anticipated 10 schools.
 "With respect to English, the weakness of Korean students pertain to speaking, listening and pronunciation, so TTU's learning environment seems ideal for them to improve these skills," Mr. Kim Chang IL emphasized. "DPR Korea would like to send its talented students to learn at TTU."
 In the guest book he wrote:"I would like to express my thanks and appreciation for the introduction and presentation of the members of Executive Board of TTU. Above all, I will take this opportunity to send my personal regards and thanks to Ms. Dang Yen – President and CEO of TTU for organizing this visit. I am very happy to be here, and I understand the future plans of TTU. I wish TTU that will become in the near future a famous university in the region and world, and I would like to have Korean students study at TTU as soon as possible. Wishing TTU further success and prosperity! Thank you once more and all the best to TTU!"
As scheduled, TTU is pleased to offer a maximum 25 scholarships for DPR Korea students for 2014 intake (Sep 2014).
Lê Chi – TTU Media