Carrying the vision of becoming international standard university, TTU has mission to open the door of entering university for excellent students but poor. Right from the beginning, TTU focus on an advanced teaching and learning environment; We commit to bring students not only knowledge but also experience in intensive studying.
In the academic year 2013-2114 TTU was authorized by the Ministry of Education & Training to open two new schools which are School of Biotechnology and School of Medicine. This means that TTU now has nine branches of study which are Electrical and Electronic engineering, Computer science, Finance and Banking, Accounting – Auditing, International Business, Business Administration, English Studies, Biotechnology, Medicine.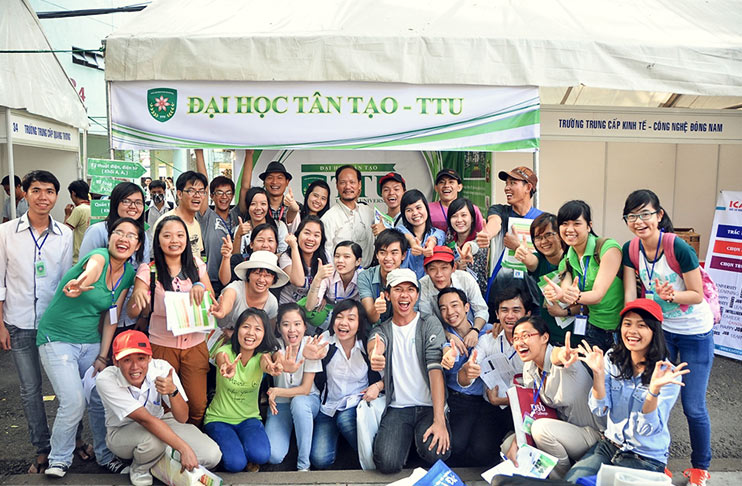 TTU's target is to train young human resource; We believe in our future success because we have our team of excellent professors who are dedicated to education, we have international standard teaching program , dynamic research environment and strong international co-operation. All the theory and practice knowledge that TTU students gain from their field will be very useful for their future career in the global competitive environment. With all the determination of TTU's leader and faculty, our target will firmly achieved.
Our curriculum is designed to enhance the English ability of student; after 600 hours of learning English, students can meet the TOEFL requirement to continue with the curriculum mainly in English, and be proficient in English in the international working environment after graduation.
Some important information about TTU
– 100% member of faculties are PhD from prestigious university in the world.
– Training program is updated from advanced programs in the world.
– The ratio faculty/student now is 1/3 (In comparison with average ratio in over the country is 1/30), and TTU target to the ratio of 1/20 in the year 2020
– The maximum of class hour of faculty per week is 12 periods (In comparison with 20-40 periods in other universities). Faculty use their left time to do research. After 3 academic years, TTU faculty has more than 50 publications on scientific journals in the world.
– All faculty must follow 8 hours per week to give consultation to students. Students can register in advance or meet directly to discuss with their professor about studying and daily issues.
– All students live in the dormitory in the campus in order to create living and learning environment with their peers.
– All accepted students of TTU are granted full scholarship: this is the unique chance that only appear at TTU for excellent students but need support to turn their university dream come true.