Today, August 22, 2023, the Tan Tao University Admissions Council released the entry score based on the results of the high school graduating exam in 2023, the first phase for 10 undergraduate majors, system school formalities.
Tan Tao University officially publishes the admission score in 2023, after entering the university as a key to open the door to the future.
Tan Tao University's matriculation standard (the method of considering scores for the high school graduation exam in 2023) ranges from 15 to 22.5 points for its 10 undergraduate majors.
As a result, Medicine has the highest standard score of 22.5 points, Nursing has 19 points, and Medical Laboratory Technology has 19 points. Majors in Business Administration, International Business, Banking and Financial Accounting, English Language, and Computer Science have a benchmark score of 15 points.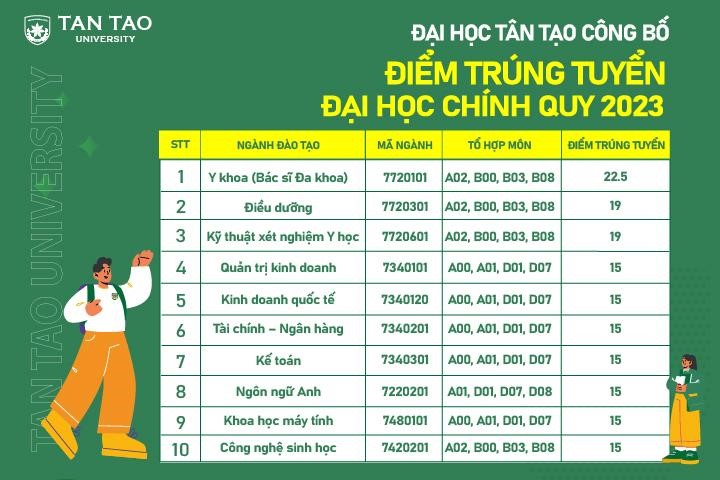 With the procedures of admission examination records as well as an aptitude test. The matriculation score has been released, with academic records ranging from 18 to 23. Ability assessment scores range from 650 to 800 points. Detail:
https://ttu.edu.vn/ttu-cong-bo-muc-diem-chuan-trung-tuyen-som-phuong-thuc-xet-tuyen-hoc-ba-va-ky-thi-danh-gia-nang-luc-nam-2023/
Tan Tao University declared immediately after the benchmark scores were revealed that it will continue to accept enrollment applications for ten majors through September 30, 2023.
Additional admissions are considered through the following methods: admission of high school transcripts, admission of high school graduation exam results in 2023, and examination of competency assessment test scores (National University of Ho Chi Minh City).
At the same time, from August 23 to August 31, 2023, candidates who have been accepted into 10 regular university training majors in the 1st phase (appraisal from March 2022 to present) will start submitting the main application admission form.
Tan Tao University is more than just a place to learn; it is also a place to live, immerse oneself in a rich cultural milieu, and make wonderful memories. Your enthusiasm in studying, passion for your chosen major, and ambition to excel are the driving forces that will propel you forward throughout your college career. The future is in your hands, and each day will provide you with the opportunity to become acquainted with an open, mature learning atmosphere in which to practise and develop yourself.
When candidates enter universities and colleges in 2023, they will need the following documents: 
Admission letter (original).
Student curriculum vitae – student (matriculation profile).
Provisional high school graduation certificate (or equivalent) for candidates graduating in 2023; High school diploma (original and notarized copy) for candidates who graduated before 2023.
High school transcript (notarized copy and original for comparison).
Identity card or citizen identity card (notarized copy), Union membership book.
Copy of birth certificate.
Health check sheet.
Profile, preferential certificate, card photo 3×4
Certified copies of legal papers to confirm priority subjects (if any).
Military service registration certificate and absentee registration certificate issued by the Military Command for men (copy).