Tan Tao University (TTU), the first US-standard non-profit private university in Vietnam, has announced the starting of the "Liberal Arts" Scholarship Fund with a total value of up to 38 billion VND.
According to the school's leadership, sharing knowledge, supporting creativity, and making a difference will change the future. Awarding scholarships is the most practical way for students to realize their goals, acquire knowledge, and constantly develop themselves to build successful careers in the future.
Therefore, Tan Tao University's "Liberal Arts" scholarship fund takes a completely new approach by accompanying excellent students from the moment they enter the university door to the completion of their learning program.
Pave the way for your career
Tan Tao University will award 100 full scholarships worth nearly 38 billion VND to encourage new students who have achieved high results on the National High School Exam 2022 to continue their efforts in studying at the university and create favorable conditions for students with difficult circumstances to firmly go to school.
Detail:
– 30 full scholarships worth 900,000,000 VND/person for Medicine;
– 10 full scholarships worth 160,000,000 VND/person for the fields of Nursing, Medical Laboratory Technology.
– 60 full scholarships worth 100,000,000 VND/class (Vietnamese system) or 160,000,000 VND/person (English system) for majors: English Language, Computer Science, Accounting, Finance-Banking, International Business, Business Administration, Biotechnology.
Scholarship recipients
High school students in Grade 12, first-year students at Universities, aged from 18 to 20 years old;
Students who have encouragement, ambitions and aspiration in study and life as demonstrated through the activities, academic achievements.
Criteria for scholarships
The students ranked good and very good, well conduct in 10th grade, 11th grade and 12th grade 1st semester of the general education program.
The students passed the interview of the Talent Scholarship Selection Council.
To carry out this program, from March to May 2022, Tan Tao University awarded 16 full scholarships to each unit with the cooperation agreement, including: Binh Chanh District (HCMC); Provinces of Long An, Tien Giang, Ben Tre, Binh Dinh, et al., and gave priority to students orphaned because of the COVID epidemic, poor households, and ethnic minorities.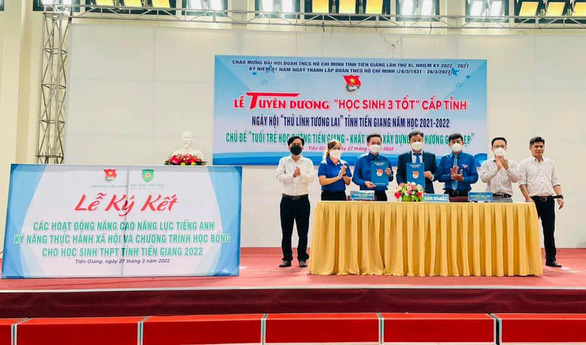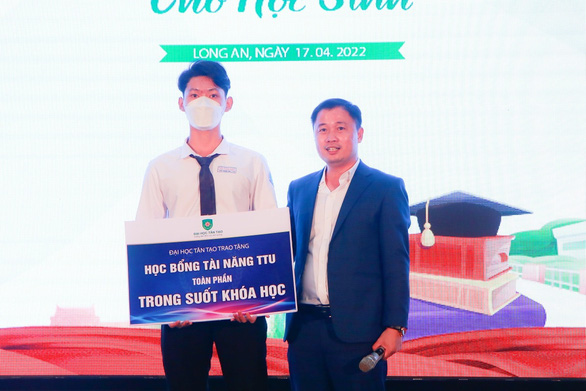 Source: tuoitre.vn