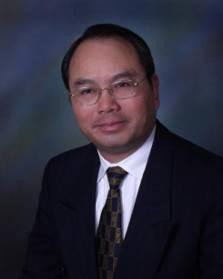 Thach Nguyen, MD, FACC, FSCAI
Key member of Board of Trustees
Acting Provost
Dean of School of Medicine
Dr Thach Nguyen is Director of cardiology at St. Mary Medical Center, Hobart Indiana, USA and Director of Cardiovascular Research Methodist Hospital, Merrillville Indian USA
He is clinical assistant Professor at Indiana University school of medicine and a Visiting Professor at First Nanjing Medical University Hospital.
He is deputy editor-in-chief of Interventional Cardiology Grand Round, associate editor-in-chief of the Journal of Geriatric Cardiology, Beijing, China, editorial consultant of the Journal of Interventional Cardiology Journal, Wiley-Liss, Hoboken, New Jersey, United States and Chinese Medical Journal, Beijing – China. He is also honorary professor of Hanoi Medical University, Hanoi, Vietnam, Central Military Hospital 301,  the Friendship Hospital, Chaoyang Hospital, Capital Medical University, Beijing, China and the First Nanjing University Medical Center, Nanjing China.
He was lead-editor and author of Management of Complex Cardiovascular Problems (Fourth edition 2016 by Wiley Blackwell, NJ), Evidence Based Cardiology Practice: a 21st Century Approach (2009 by People's Medical Publishing House, Connecticut, US) and the Practical Handbook of Advanced Interventional Cardiology (5th edition, 2017 by Wiley Blackwell) (many times bestseller #1 at Barnes and Noble Bookstores for interventional cardiology).
His research interests include new techniques in Interventional Cardiology, appropriate application in techniques and practices of clinical cardiology and other new developments in antiplatelet therapy and pulmonary hypertension.