Long An June 28, 2018
Dear Faculty, Staff, Parents of students, and Students,
As acting Provost of Tan Tao University (TTU) and Dean of the School of Medicine (TTU-SOM), I would like to send all of you my report at the end of the academic year 2017-2018.
ADMINISTRATIVE Affairs In the last one year, TTU successfully completed the organization of all administrative structures including filling all the positions of the Board of Trustees, forming the Academic Council and various committees or councils needed for the functioning of a major university. TTU also registered the diploma template and the signature on it in accordance with the Circular No. 19/2011 / TT-BGDDT dated May 24, 2011 by the Ministry of Education and Training, and the Circular No. 19/2015 / TT-BGDDT dated 08/09/2015 by the Ministry of Education and Training promulgating regulations on the management of the graduation certificates of secondary school, high school, and university of the national education system. There were two important events about the academic credits and diploma of TTU in 2018. This year, TTU also embarked on a strong program on Quality Assurance according to MOET's new standards to continue improving the quality of teaching.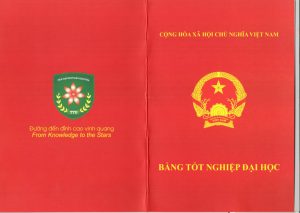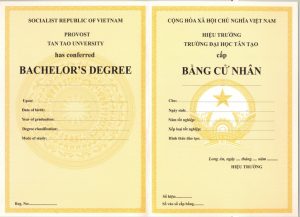 In general, 2017-2018 is a busy year for the administrative team with a lot of works done. I like to thank the leadership team and staff of the administration for their excellent job.
ACADEMIC assistance Pham HM, a TTU graduate with his bachelor degree from the School of Business (SBE), will start his MBA studies at the U of Missouri at Columbia (MO) USA in this coming August. Another student (Nguyen TT) whose family emigrated to Canada is continuing his medical studies after the credits for the first 3 years at TTU School of Medicine (SOM) were accepted. He needs to spend only one more semester in basic sciences before taking the USMLE step 1 exam. Last November, I met many alumni and alumnae of TTU who were quite successful in their jobs with their liberal arts training at TTU.
ACADEMIC Affairs In the academic year of 2017-2018, all professional schools TTU underwent many new changes in order to achieve the 4 major goals of TTU:
Excellence in teaching and US based curriculum (for current students)
Success in the real world market (for the new graduates)
Admission of students from outside Vietnam, mainly from Asia and the US (to tap in a new pool of student recruits and as a strategy to improve the quality of teaching and research at TTU)
Major drive in biotechnology, engineering and medical research
Curriculum The curricula of the TTU SOM and other schools were updated and completed with input from the US curriculum. The 6 year curriculum of the SOM was prepared according the requirements of MOET by Assoc. Prof. Le Xuan Truong, former dean of studies at the U of Medicine and Pharmacy of Ho Chi Minh city and currently is in charge of the studies of TTU SOM. All the other schools: Biotechnology (SB), School of Humanities and Languages (SHL), School of Engineering (SE) and School of Business and Economics (SBE) did update their curriculum in order to accommodate the new improvement program at TTU (in order to attract more students, prepare the students for graduation and accept new students from outside Vietnam, including from the United States).
Plan for Graduation Exam The curriculum, plan and schedule of exams for the medical graduating class of 2019 were prepared by Assoc. Prof. Le Xuan Truong and approved by TTU. Senior students at the SBE, SE, SB and SHL were busy in their research or essay in their final years before graduation.
Clerkship in the US This year, this is the fifth time, TTU medical students go to the US for summer clerkship. In 2018, there were 19 3rd year medical students who signed up for the trip and ALL were approved to have interview with the US consulate in HCM city. Their applications were sponsored by the US congressman and senator who wrote the letter of support to the US general consul at HCM city. In total, 18 third year medical students had their US visa approved. The 4th year medical students had their US visa approved and two will be interviewed next month. In August, one student will spend one month at the University of Maryland for Emergency Medicine. Four students went to Yonsei U for emergency room clerkship.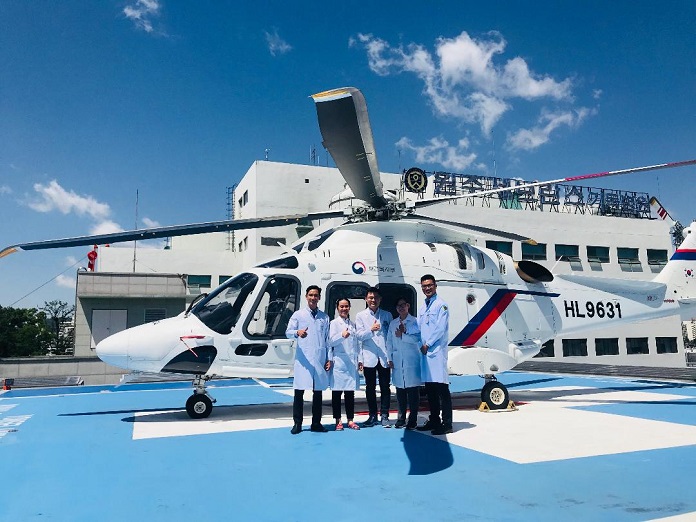 While going to the US to study, the students did not have to pay extra to TTU or the hospital or medical school in the US. At St Mary Medical center, TTU students received monies for lunch while at other hospitals, for students or doctors from outside the US, the usual cost for the clerkship in the hospital in the US is 1000 USD per month. https://my.clevelandclinic.org/departments/international-medical-education/physician-programs/clinical-observer#fees-tuition-tab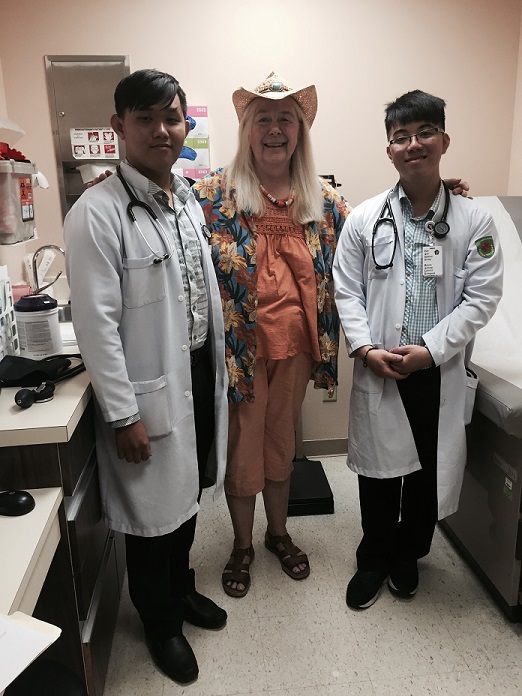 Bedside teaching according to the US standards There are many US faculty coming to TTU for teaching at the basic sciences level or at the clinical level with bedside teaching round (less than 10 students per faculty). In this month of June, Professor Pham Gia Khai, former president of the Vietnam Heart Institute in Hanoi, came to conduct bedside rounds to TTU 5th medical students at the Thong Nhat hospital. There were also 2 other US trained MDs to do teaching rounds for TTU medical students in June. In July, Dr Advait Soni will make rounds. In August, Dr Neil Kleiman, Professor of Medicine, at Methodist Hospital, Houston, will teach and do rounds to 5th year medical students. In September, Dr Peter Singer, Chief of Endocrinology of the University of Southern California (USC) will spend 3 days teachings at TTU and affiliated hospital.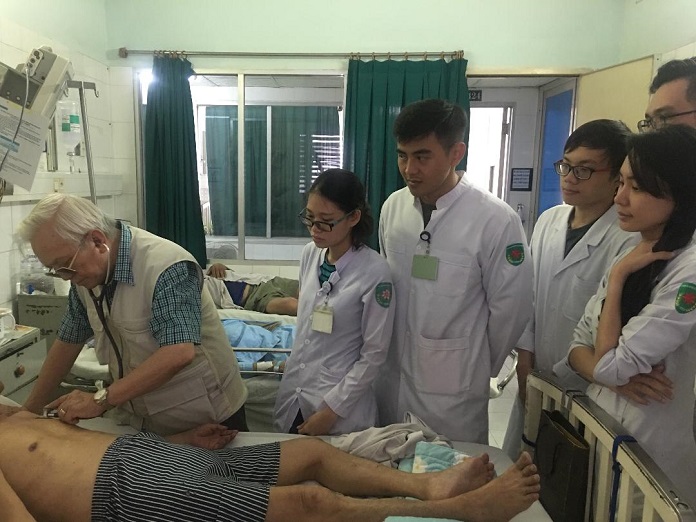 Clerkship with US medical students at the US medical school:
A first in modern history of medicine in Vietnam In August 2018, 2 medical students from TTU will do clerkship at the Univ of Texas in Houston. This clerkship in hematology is reserved for the American medical students from the University of Texas in Houston. In May 2018 eleven TTU students spent one week in the Problem based learning session at the School of Medicine Indiana University NW. These events show that the teaching at TTU can be equal with medical teaching in any other major medical schools in Vietnam or in the world.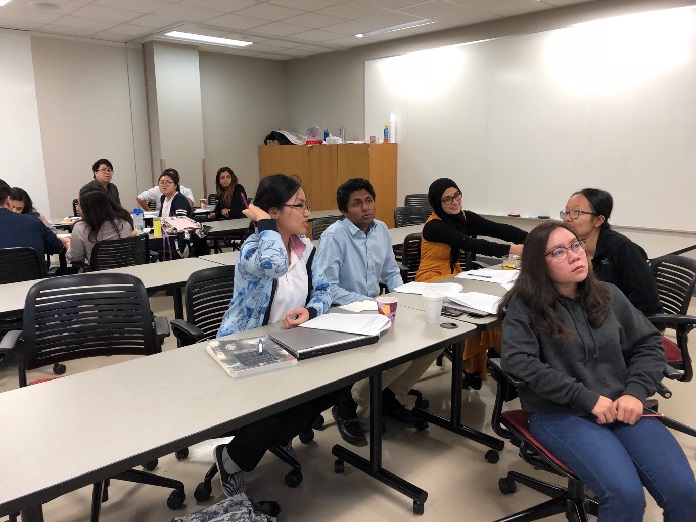 Research and presentations at scientific meetings in VN and abroad.
In 2017, TTU students presented their studies at 2 meetings in VN and 3 meetings abroad (7/2017 in Singapore, 10/2017 in China and 12/2017 in Korea). In 2018, TTU will present their research at two Vietnamese meetings (Thang Long 8/2018, VN Heart Association (10/2018) and two abroad (the Great Wall International Conference in Cardiology in Beijing 10/2018) and the Joint Coronary Revascularization meeting in Busan KR 12/2018).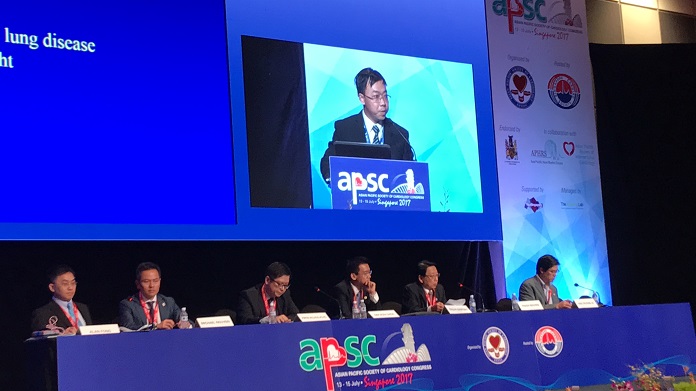 USMLE preparations TTU SOM officially prepares the TTU medical students for the USMLE exams so they can be qualified for training and working in the US.
US Faculty at TTU In March 2018, Dr Ernest Talarico came to TTU to teach anatomy and conducted Problem based teaching to all the 3rd year medical students. In August, Dr Neil Kleiman of Methodist Hospital in Houston, TX and John Douglas, of Emory U in Atlanta, GA will conduct bedside teaching. In September, Dr Peter Singer, Chief of Endocrinology, of the U of Southern California (USC) will come to teach and do bedside rounds with students.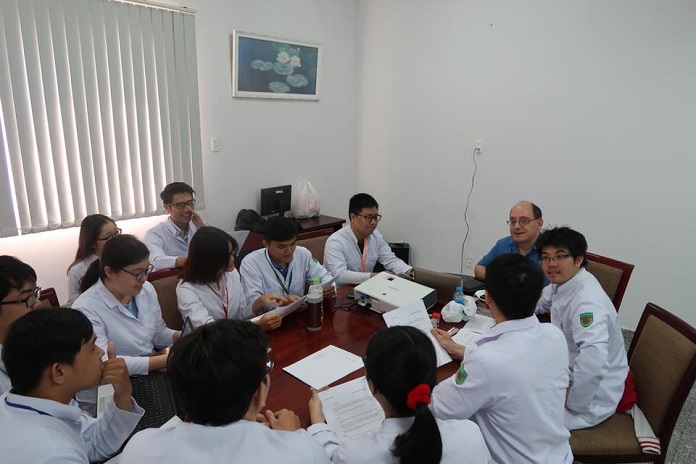 Research This year, the School of Biotechnology and the SOM, along with Drs. Hector Cabrera, Derek Hausenloy and Do Dang Vinh from the National University of Singapore (NUS), Max Lim from Australia, with Prof Truong D Nguyen and Dr Khanh Doan will present their research at 2 meetings: The Thang Long Cardiology meeting and the TransMed meeting in August. Around 10 TTU students will present research works in Danang and Beijing China. Dr Khanh Doan received a 50,000 USD grant for his research from Nafosted. Dr Truong Nguyen also received 100 M VND to start his research lab. These monies were matched by the research funds of TTU so Dr. Truong Nguyen can complete his lab.
Activities of the Schools of Business and Humanities and Languages
The School of Humanities and Language organized the Education Camp HCMC with the TESOL HCMC Association, and Horizon TESOL (Teaching English to Speakers of Other Languages).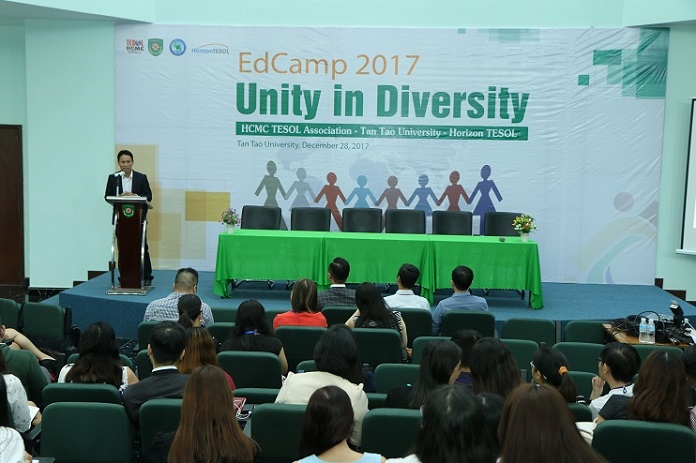 A major event staged by the SBE was to organize multiple talks of Mr. Marty McVey, a successful businessman specializing in investment and oil sales in Houston, Texas. Mr. McVey gave a talk to high school students on how to select a career and how to be successful in business and investment. His talk at the Ben Thanh auditorium was well attended and appreciated by an energetic young crowd of high school and college students.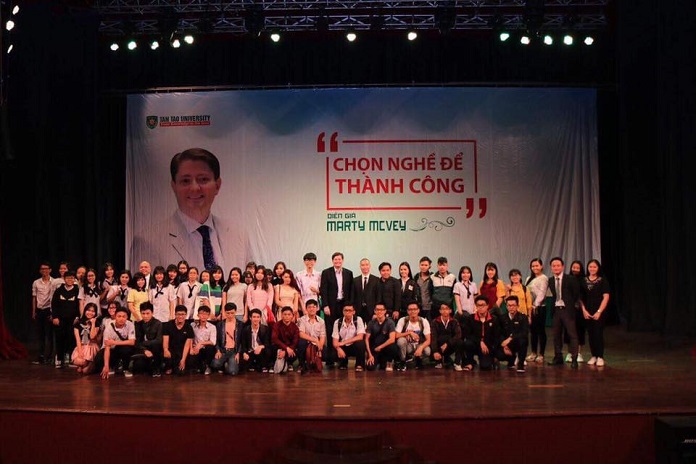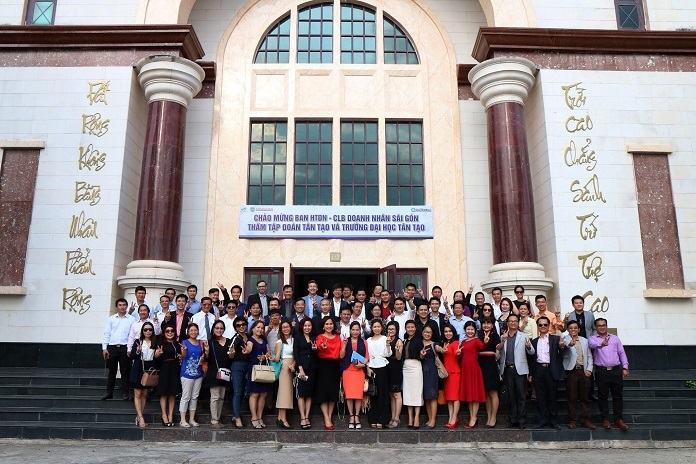 Extra-curricullar Activities with Other High Schools
The TTU recruitment team successfully went to more than 40 high schools in the Mekong delta to teach the skills needed by young people in the 21st century. The recruitment team also successfully organized the High School Competition selecting the best pre-med students. More than 50 high school students from Hochiminh city and surrounding areas presented their topics ranging from anatomy, physiology, biochemistry, artificial intelligence, and telemedicine. During the preparatory phase of this competition, altogether six students were selected to do research in major laboratories in Singapore, Korea, and Vietnam. During the first week of February, 2 students, Nguyen Hoang Quynh Anh, with her brother as chaperone, and Phan Nam Bao Chau, with her 2 sisters as chaperones, spent a great time learning at the National University of Singapore (NUS).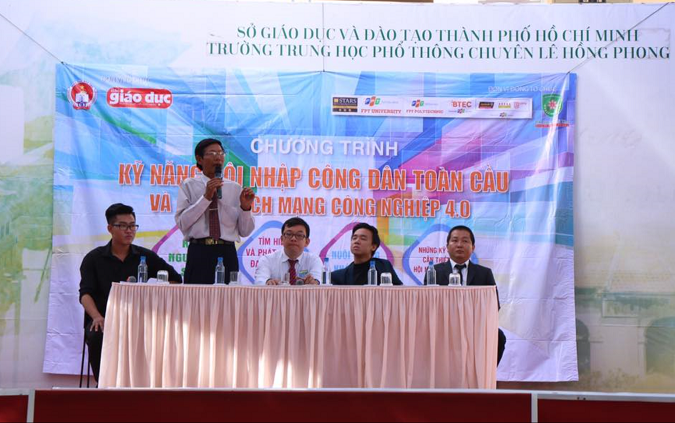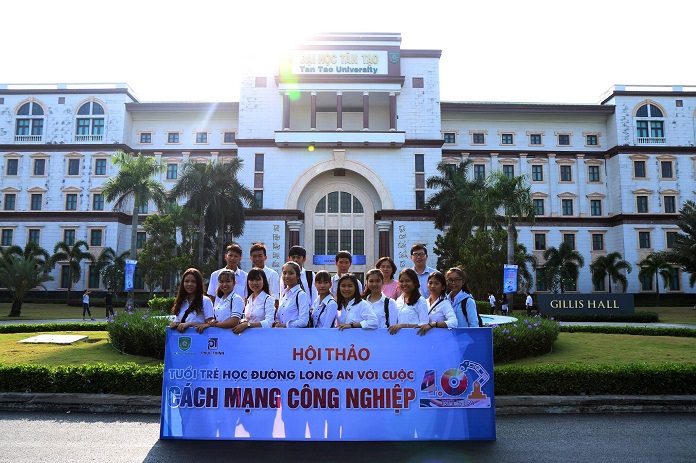 IN SUMMARY
The academic year 2017-2018 was a busy year for TTU faculty, staff, and students. However, with the determination of all executives, faculty, staff, students, and parents, coupled with the new American style of management, the academic year 2017-2018 was very successful. As a result, on behalf of the leadership team, I would like to thank all faculty, staff, parents, and students who made 2017-2018 a great and successful year. I hope everybody will enjoy the summer holidays and spend quality time with family and loved ones.
With my warmest personal regards,
Thach Nguyen MD FACC FSCAI